The take rate for new customers adopting smart home control from security giant ADT (NYSE: ADT) continues to grow. For the third quarter of 2019, the company reports that 80% of newly contracted residential clients chose the ADT Command & Control home automation system. That is a 17% higher take rate than the previous quarter.
"Our success driving higher levels of automation inside the home, not only continues to enhance our results, but sets the table for continued improvement for years ahead," says James DeVries, CEO, President and Director, speaking to investors.
"During the quarter, more than 80% of our residential installations included our best-in-class interactive services, which brought our total overall interactive base to 44% of our customers. Within that take rate, we're seeing higher levels of automation, more premium video services as well as more connected devices per new installation. Each of these characteristics helps drive higher per-customer revenues.
He continues, "We're very pleased with the strong demand for ADT Command, and we expect this 44% mix of interactive customers will continue to climb with positive implications for both upfront and recurring revenue as well as long-term customer engagement."
DeVries notes that ADT records 28 million videos per day from its customers, and so far in 2019 it has captured 200 billion system events. That depth of interactivity drives increased customer engagement and ultimately reduces attrition.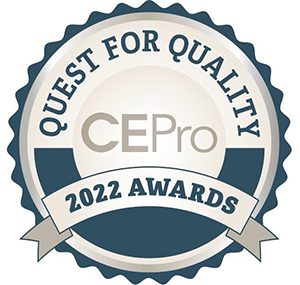 CE Pro urges integrators to recognize their suppliers that go above and beyond to deliver premium support and service. Cast your vote today to recognize the services (not the products) from your favorite manufacturers and distributors.
Cast your vote today!
Speaking of attrition, ADT attrition actually climbed slightly for the quarter to 13.5%, which the company attributed to the dealer channel selling to customers with lower credit scores. Those clients tend to cancel more frequently.
But in ADT's core direct residential channel, the company experienced modest improvement in attrition year-over-year.
"We expect to drive continued retention improvement over time through a combination of industry-leading service levels, enhanced customer service technology and the addition of high-quality customers attracted to our innovative offerings both inside and outside the home, as is demonstrated by the increasing popularity of ADT Command and Control," says DeVries.
Other initiatives include a new consumer financing program that was rolled out as a pilot program in five cities this year. ADT plans to take that financing program national in 2020. Also the company is bullish that its recent acquisition of I-View Now will greatly enhance its ability to reduce false alarms via verification.
In terms of total financial performance, ADT reported Q3 revenues of $1.301 billion, up 13%. In terms of the bottom line, the company had a net loss of $182 million for the quarter compared to net loss of $236 million last year. Excluding acquisitions, ADT organically grew 5%.