Low-voltage lighting is transforming resimercial projects faster than ever. It is easy to install and provides highly dependable lighting for commercial and residential spaces.
The two primary areas of opportunity are downlighting and accent lighting. Low-voltage downlighting is enabling integrators to "own the ceiling" and expand their share of projects.
Driverless LED fixtures provide dependable, high-quality, configurable light, with a remotely located driver. Drivers are rack-mounted up to 400 feet from the lights and easily managed in one location. Eliminating the driver from each fixture eliminates the No. 1 source of heat and enables LEDs to run cooler. Less heat in the fixture equals greater longevity for the lights.
Using driverless low-voltage fixtures in auditoriums and houses of worship means replacing burned-out pendants high in ceilings becomes a rarity.
Related: Proactively Sell Lighting Using a Showroom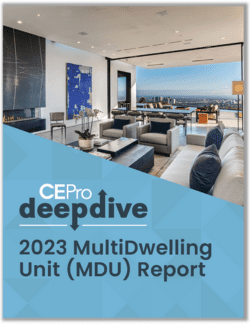 Discover why MultiDwelling Units (MDUs) have major appeal for custom integrators and what they're doing to address this market.
Low-voltage downlights also utilize less electricity than standard fixtures while providing multiple color options like tunable white and RGB. The REVI system from Environmental Lights is a great example of a driverless downlighting solution. It features programmable, RDM-enabled power supplies and a variety of pendants and recessed fixtures.
REVI facilitates easy installations, remote power management, and simple integration into control systems. Environmental Lights also offers lighting design services to configure lighting and help win projects. Low-voltage accent lighting provides another opportunity for resimercial projects.
Accent lighting brings the "wow factor." It transforms restaurants and hospitality spaces and sets properties apart. Applications range from toe-kick lighting to ceiling cove lighting.
A good lighting manufacturer will help specify the right high-quality products and then customize them to ensure simple installation and easy integration into control systems.
---
— Michael Krupinsky, Vice President of Marketing, Environmental Lights
If you enjoyed this article and want to receive more valuable industry content like this, click here to sign up for our digital newsletters!