Systems integrators across the nation are branching into the resimercial business. A burgeoning category of work-from-home (WFH) and light commercial applications, resimercial presents both great opportunity … and great challenges.
"Both light commercial and work-from-home settings and the Wi-Fi networks that serve them are completely different animals than the traditional residential environments most integrators are familiar with," says Nathan Holmes, senior manager of training at Snap One, Access Networks' parent company.
"The way the network is used, the people using it, customer expectations, and the types of devices connected to the network vary greatly from typical household applications."
Holmes notes that even within the resimercial category, home office and light commercial environments differ widely, making it difficult to pin down a specific set of rules and best practices. Still, there are some general system spec design and setup guidelines Holmes points to that integrators should follow.
Recognize Inherent Challenges
Is your WFH client using the Internet to access word documents on a cloud server or is he/she logging into financial records on a corporation's local VPN? In light commercial applications, the use cases are even more disparate. For example, there are few similarities between the networking needs of a doctor's office compared to a restaurant.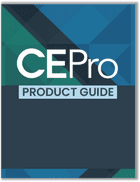 CE Pro's 2022 Product Guide showcases some of the latest and innovative solutions from manufacturers serving the custom electronics industry in a cross-section of categories.
Download the guide now!
The types of devices connected, the security parameters required, and the number of users varies widely. Bottom line: There are few opportunities for repeatable designs, so you'll likely need more resources — time and manpower — to succeed.
Identify Users & Use Cases
In a typical household setting, the network needs to support a certain number of family members and guests. A home office changes everything. That same residential network likely won't be able to provide the level of connectivity and security required of a WFH employee. Chances are, you'll need to assign the office to its own VLAN or even its own ISP should the client require super-tight security.
Either way, a dedicated VLAN ensures ample bandwidth for conducting Zoom calls, streaming live presentations, downloading and uploading large files, and other business matters. Plus, the VLAN boosts security to help prevent viruses, malware, and other cyber threats from infiltrating the office.
This same logic applies to light commercial applications. Is your customer a bank where each meeting room should function on its own VLAN or is it a retail boutique where prioritization and bandwidth are less stringent? Is the customer a small office that entertains few guests or a gym where many visitors come and go? Get a handle on the users and the use cases to commission the appropriate network security and prioritization protocols.
Determine Connected Devices
What type of network devices does your WFH customer need to access? A printer, desktop computer, laptop computer, and smartphone? Or, do they need to also connect to a surveillance camera at the front door or a distributed audio system? Is work conducted in the office only or sometimes on the patio, kitchen, and other places? The more devices, the more bandwidth.
The more roaming, the greater the coverage. Make sure you have a clear idea of the devices on the roadmap before you lay the networking pavement.
Device diversity is the only aspect that can be easier to gauge in light commercial tech installation.
Related: Current Resimercial Technology Trends
Typically, employees access the same equipment from the same type of devices. Also, unlike a WFH environment where family members introduce new devices to the network frequently, commercial settings maintain a relative status quo. Still, be sure to conduct a thorough analysis and build in headroom to account for devices or people you may have missed.
"It's common to underestimate," says Jason Barth, CEO and principal designer at Carmel, Ind.-based integrator The Premier Group.
"Each person who walks into the business could be carrying four or more Wi-Fi-enabled devices, so based on who's visiting and how frequently, the number of devices the network needs to support can fluctuate dramatically."
Hardwire. Always. Without Question.
Connectivity speed, reliability, and security are always better when devices and access points are hardwired to the LAN. Deploy networks with this mantra in mind, advises Holmes:
"Wi-Fi is designed for convenience; hardwired connections are used for performance."
Client devices perform better and are more secure when hardwired. Although a mesh topology might be simpler to deploy than wiring each access point (AP) to the router individually, in-home office, and light commercial applications the inherent signal latency that occurs is often unacceptable.
To further optimize performance, configure the network so that devices stay on the 5GHz frequency band. "If you don't, they'll transition automatically between 5GHz and 2.4GHz which impedes speed and coverage," Holmes says.
Adhere to Current Enterprise-Level Standards
This should go without saying but bears repeating: Use equipment that complies with the most current Wi-Fi standard and install APs generously. "In residential, the goal is often to install as few APs as possible, but in resimercial it's quite the opposite.
The higher bandwidth requirements and greater number of users demands more APs," says Holmes. Also, it's likely that an off-the-shelf networking solution cannot provide the security, speed, coverage, bandwidth, and reliability that resimercial clients need.
Be sure to have an enterprise-grade system in your portfolio to address the requirements of WFH and light commercial applications. Doing so not only keeps them securely and quickly connected but provides critical IT support.
Enterprise-grade systems enable comprehensive remote monitoring to mitigate costly downtime should the network experience a snafu.
Automatic notification of a dropped device or another ailment combined with products that provide full remote visibility allows your team to react quickly, often fixing the problem remotely.
"Rapid support and remediation without a truck roll — it's a win for your client and a win for your company," Holmes remarks.
Integrate a Double Online Conversion Battery Backup
The devices on a network need power. Sometimes, that power is unstable. A double online conversion battery backup maintains an even flow of power to each device to protect them — and the entire network — from power surges and other electrical anomalies, Holmes advises.
7. Be Business-Minded in Your Intent
Implementing a network for resimercial customers requires plenty of due diligence, starting with a thorough client needs analysis and site survey. The environment, customers, uses, and requirements will fluctuate from job to job, making resimercial an exciting yet challenging market.
By treating each project uniquely, focusing on performance first and convenience second, utilizing enterprise-grade hardware, and providing corporate-level service and support, systems integrators can capitalize on this very lucrative category.