Like many integrators' clients, I was suddenly thrust into a work from home environment due to COVID-19. CE Pro actually kept its offices in Framingham, Mass., open throughout the bulk of the pandemic emergency. For two years, only myself and our IT expert worked from the office every day in our beautifully well-appointed facility designed for 43 people.
It was absolute heaven. I had no interruptions with full access to our in-house studio with professional lighting, recording equipment, and an 80-inch Mondo board background for recording the video interviews, webinars and podcasts, many of which you can find on the CEProMag YouTube channel.
But as the pandemic waned and the office started to reopen, Emerald (CE Pro's parent company) opted to permit employees to continue to work from home most of the time. Attendance in the office was sparse to say the least, so in late December 2022 CE Pro's offices were officially closed. That meant for the first time ever, I became a work from home employee.
It also meant that I would be hosting CE Pro podcasts and webinars in the room over my garage, which does not have the best lighting. It also meant I was relegated to using my laptop's internal microphone and camera. It was fine, but certainly not the same level of quality as before.
Enter American Recorder Technologies' ALLCAST Video Conference, Webinar and Podcast System to my rescue. The $499 system features a high-performance matched microphone, dual monitor stand, webcam and light for high-quality audio and video. The plug-and-play packaged solution eliminates the need to have to purchase all that gear individually, then having to figure out how to mount it and connect it all together.
Setting Up the ALLCAST System
The system arrived at my house in a single 18-inch high x 12-inch wide x 10.5-inch deep cardboard box. I admit I delayed and delayed opening it because I was worried about taking a day of work time to set it up. Boy was that dumb. After almost two months of the box collecting dust on the floor behind me, I decided one morning to "devote the day" to setting it up.
The system comes complete with a full set of Allen wrenches. (My years of experience putting together IKEA furniture came in handy). ALLCAST has a Multi-Function Monitor Stand (MFMS) accommodates up to two 27-inch flat screen monitors that connect to a single center stanchion via specialized mounting brackets. Those same brackets support an included ring light and webcam. The center stanchion can sit on the desk via a weighted desktop base, or it connects to the desk using a tabletop clamp or through a grommet hole. In my case, I used the clamp.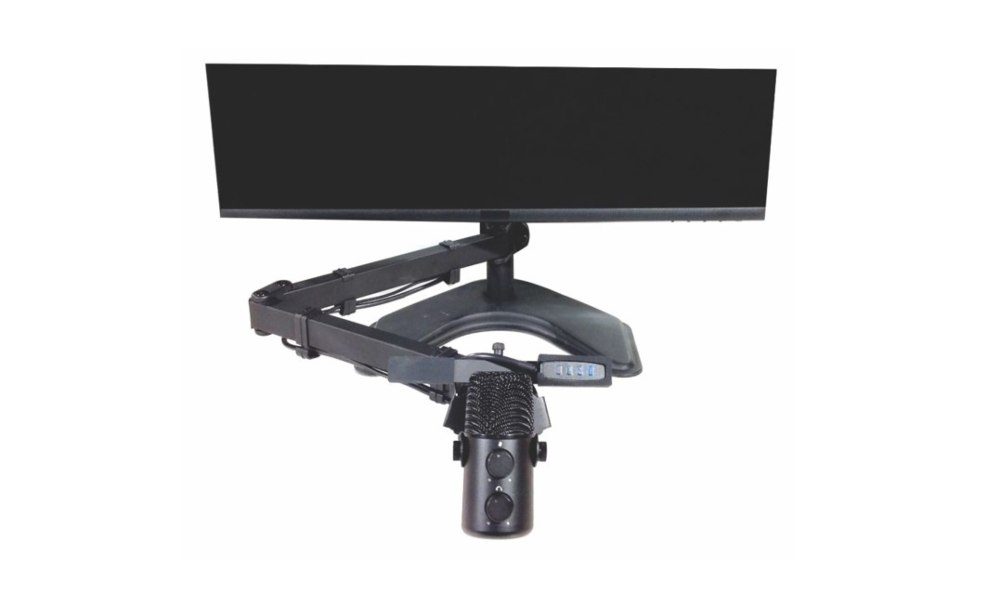 The studio-grade condenser USB microphone can be used with both voice and instruments. The mic's cardioid polar pattern rejects extraneous sound from the sides and rear. The mic mounts directly to the Multi-Function Monitor Stand's extension arm, extending up to 24 inches when in use, then retracting out of the way when idle. With all the junk routinely piled on my desk, that is extremely beneficial.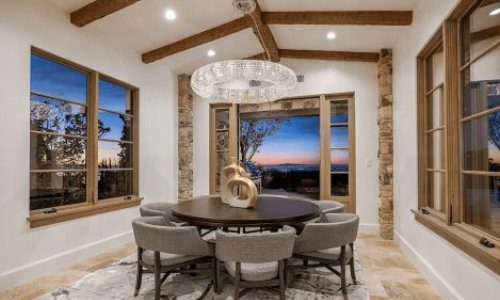 As a custom integrator, lighting is in demand. Effective communication, education and showcasing the value proposition of LED light fixtures in conjunction with integrative control systems are the keys to overcoming challenges and closing sales in this specialized market. Join us as we discuss the future of digital lighting and control with David Warfel from Light Can Help You and Patrick Laidlaw and Mark Moody from AiSPIRE.
Register Now! 
The 6-inch ring light provides dual-mode color temperature selection as well as a dimmer to control the light intensity. I can select from daylight color temperature (5500k) or incandescent color temperature (2700k) for the best color hues. In my case with my pasty white skin, the red color temperature is better. I can also adjust the light level from soft to intense.
In the center of the ring light is the HD webcam, which offers 1080p resolution. The ring Light, HD webcam and microphone all plug into a supplied four port USB 3.0 hub, which connects to my PC via USB. There is a mini controller that extends from the hub to a small rubber sleeve that mounts directly above the microphone.
Once everything was connected in the ALLCAST system, I was ready for action… or so I thought. I hit the power button on the controller and nothing happened. I checked all my connections and everything was correct. I reached out to American Recorder Technologies and they had me disconnect from the hub to see if the ring light and webcam activated when plugged directly into the USB port on my computer. Voila! It worked. The hub was dead.
American Recorder Technologies immediately shipped out a new one. I connected it up and the system worked perfectly.
Improved Audio, Video Upgrades Podcasts
From an audio standpoint, I went from using the risky built-in mic that often clipped out to pristine audio with the ALLCAST system. The ring light took me from looking like I was in a cave to a decent appearance. It is not the professional lighting from our Framingham studio, but a big-time upgrade nonetheless.
The difference in video quality using the HD webcam compared to the built-in camera in my HP laptop is incredible. The best analogy I can make is like I went from looking like I was starring in a grainy 1950s TV show image to being in a Marvel action movie of today. (OK, that might be a bit of an exaggeration, but you get the drift… the quality difference was night versus day.)
For any custom integration project, it is worth the effort to simply ask your clients if they are working from home. This add-on solution is a quick set up for your technicians that can add an extra hour of labor to your project.
If you enjoyed this article and want to receive more valuable industry content like this, click here to sign up for our digital newsletters!