URC says "the best method to understand smart home tech is through experience" — so they've built an ultra-realistic VR, 360° interactive environment to experience life in today's smart home.
Given the rise in virtual meetings and experiences, URC crafted a strategy to create an immersive journey that enables visitors to interact within an ultrarealistic virtual home, learn about and simulate a variety of control options, and explore the features of a URC Total Control system.
URC's Virtual Inspiration Home offers a guided tour complete with virtual host or the ability to create a self-guided tour by selecting the preferred room or scene.
Related: How Tym Takes Modus VR Design Tool Beyond Virtual Reality Headset
The virtual home includes the opportunity to experience a variety of scenes:
Welcome Home – arriving home with pre-programmed activations
Home Office – integration of work and home schedules with advanced integrations
Movie Time – control and automation of streaming AV and music sources with high-definition distribution
Dinner Party – setting the stage for intimate to large events
Outdoor Entertainment — epic entertainment near the virtual pool, spa, or outdoor kitchen
Good Night – featuring a relaxing scene and ability to monitor other rooms throughout the home
According to a URC press release, this approach provided a significantly greater wealth of options to simulate URC system capabilities like changing light settings, adjusting shades and drapes, accessing high-definition audio, streaming video content, adjusting climate control, illustrating different scenes, and more.
Instead of requiring visitors to travel to a physical location, URC now brings this immersive experience to consumers, allowing global visitors to experience the possibilities of today's smart home – viewable on any device.
"Launching URC's Virtual Inspiration Home continues the evolution of the URC brand to a more active and engaging position. From their devices and no matter their location, consumers can experience the benefits of URC's advanced technology," said Ron Pence, who leads URC's Marketing team.
Pence added, "consider the possibilities of launching new products and hosting virtual events from a consumer's preferred device."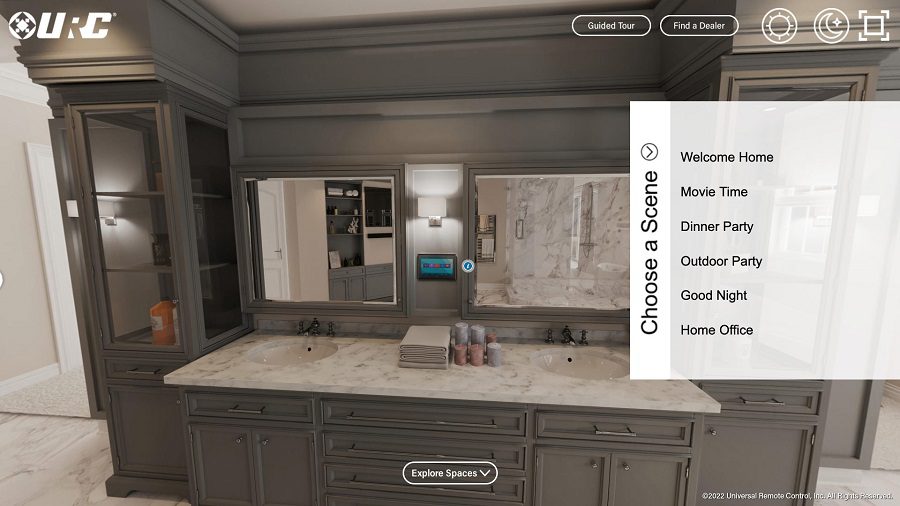 "Using a virtual smart home environment, is a great idea to inform end-users on the benefits of URC's Total Control automation and control system. We plan to stream on our showroom iPads and share with our clients," stated Ryan Rumer, Sales and Design at World Wide Stereo Sales.
"From geofencing and notifications as you approach the virtual home to the party on the patio, URC created a winning digital tool to help our clients dream big. It's control and automation on a new level," stated Lowell Kaps, Owner, Lowell/Edwards Home Integration, Inc.
Visit the virtual showroom here.
post