Within the neighborhood of 641, Gulmohar Society, a lone gem of a restaurant sits. Serving tourists and locals alike, the goal of Kissa has always been: "Stories over food." The contemporary restaurant's open-air, rooftop lounge space serves as a catalyst for conversation in a relaxing atmosphere overlooking the city of Mumbai, and as such, the sound system is meant to provide a supporting roll more than anything else. This was the foundation Nemish Parekh of Xpan Solutions was given when Kissa contacted him, and ultimately why he turned to Soundtube as the product of choice.
Relaxing Lounge by Day, Energetic Club Atmosphere by Night
Note that the restaurant's focus on developing a conversational atmosphere was only part of tasks that would be assigned to Parekh's system. According to the restaurant owners, having some pleasant background noise was integral, as it would vastly increase the enjoyment the patrons would get out of the restaurant space. However, they also wanted the system to be able to match the energy visiting DJs would bring with them.
This additional requirement would prove its own challenge within an open-air space, as Kissa needed to ensure that during those times, sound spillage into the surrounding neighborhood would be minimal. To top it all off, budget was also a major focal point of the project.
Given those requirements, Parekh and his team at Xpan needed to develop a system whose sound would be well-rounded, powerful enough, directed properly, and somehow contained within the open space of the lounge. It ended up being a challenge that required some clever engineering and, most of all, the proper selection of products.
SoundTube and Aerons Deliver Versatile, Durable Sound System
Ultimately, Parekh selected a solution that would utilize SoundTube speakers and subwoofers in conjunction with an Aerons amplifier and mixer. Four RS62-EZ Co-Axial Premium Pendants acted as the workhorses for the space, while two RS1001i-II Pendant Subwoofers would act as the muscle to support visiting DJ sets and rooftop lounge events. The aforementioned amplifier and mixer would then help unify those devices into a coherent sound system.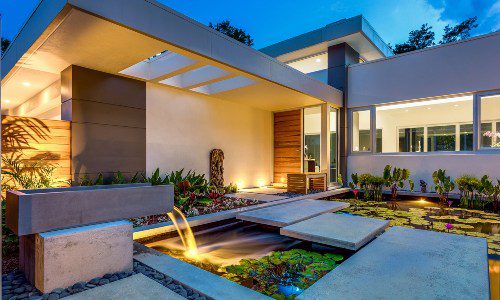 Landscape and architectural lighting create a magical and elegant ambiance for homeowners. The outdoor lighting industry has always been a phenomenal one and continues to grow in popularity. Now is the ideal time to learn more about this rapidly growing and highly profitable industry. Join our panel of esteemed lighting experts that will dive into why it's time for integrators to rethink their role in the outdoor lighting industry.
Register Now! 
According to Parekh, the efficiency of the SoundTube speakers actually made it so the Xpan team required fewer speakers to support the final system. Additionally, the mounting accessories that came with the speakers made it so the installation wrapped up sooner than expected.
He added that two main features helped the SoundTube speakers stand out in the selection process. The speakers' "Zero Reflection Enclosure" would allow for optimal sound reproduction while maintaining cabinet rigidity, even in the open-air space. Meanwhile, SoundTube's "BroadBeam Waveguide" technology would offer nice edge-to-edge coverage on a predictable 110-degree pattern for the added assurance of solid audio with little spillover.
As an added bonus, the weatherized cabinets of the devices would allow them to withstand some of the more severe weather shits that Mumbai can sometimes experience.
"It is always a pleasure to provide systems to clients that are passionate about sound. We see a clear shift in the market of venues upgrading their system to SoundTube Entertainment." According to Nemish, he expects that this upgrade will influence Kissa's business in a very positive manner. After all, a pleasing atmosphere is always a great investment, regardless of what business you're in.
If you enjoyed this article and want to receive more valuable industry content like this, click here to sign up for our digital newsletters!