Occasionally, installing a home theater system allows a homeowner to live a dream. In the case of Ariz.-based homeowner Maninder Chatha, his love of AV electronics started from an early age and progressed to the point where he wanted nothing more than work with AV installers to upgrade his own home theater.
Thanks in part to the folks at Alcons, Chatha was able to see his dream become a reality with his very own eight-seat cinema room.
"Over the decades, I have been on a long journey to achieve what is the best possible audio and video experience – from makeshift preamp/amps and speakers to the state-of-the-art equipment available now," says Chatha.
The system comprises three Alcons CRMS mkII three-way Cinema Reference Monitor System units plus four CRMSC-SRIW compact in-wall reference surrounds and four CRMSC-SRHV compact horizontal/vertical reference surround. The system is powered and controlled by four Sentinel3 amplified loudspeaker controllers.
Chatha says part of the fun of finally realizing his home theater dreams was simply working alongside Alcons Audio's David Rahn and Walter Fortmüller of SAVO and learning from them.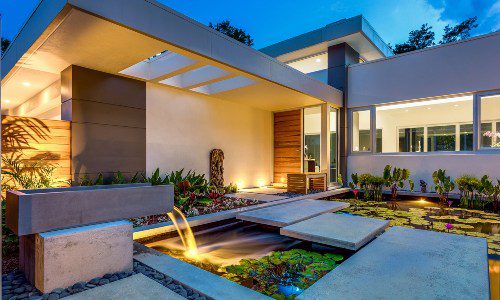 Landscape and architectural lighting create a magical and elegant ambiance for homeowners. The outdoor lighting industry has always been a phenomenal one and continues to grow in popularity. Now is the ideal time to learn more about this rapidly growing and highly profitable industry. Join our panel of esteemed lighting experts that will dive into why it's time for integrators to rethink their role in the outdoor lighting industry.
Register Now! 
"It is not about owning expensive and material objects that brings the pleasure. It is sharing the common passion of perfection in audio and video, meeting people like David and Walter and sharing time and experiences with them that brings the greatest joy and lasting memories. From my discussions with them, I know that the people at Alcons share a similar passion," says Chatha.
"A key aspect with the new immersive sound formats is to create a coherent, smooth 3D soundfield around the listener, without any gaps and apparent transitions," says Fortmüller, who provided his acoustical design and system tuning specialist skills for the project.
"The outstanding dispersion characteristics of the Alcons C-series, together with close to perfect timbre matching between speakers, allowed us to deliver flawless audio quality in every seat. Seat-to-seat variation is minimized with balanced and closely matched on-axis and off-axis response – the whole listening area becomes the 'money seat'.
"Even with 11 speaker channels, object-based sound formats place and move sound events between those fixed speaker locations. It is critical to have very stable, focused phantom images. Alcons products perform exceptionally well in that regard," adds Fortmüller.
Of course, the biggest benefit of investing in a very high-end system is the audio quality, for which Chatha is wholehearted in his praise.
"I am amazed every day at the clarity of the sound when I use my theater, whether it is a movie being streamed from Netflix or played on my Kaleidescape Strato 4K Ultra HD player," he says. "The midrange, vocals and upper ends are sublime. I now have by far the best sound I have heard in any theater."
If you enjoyed this article and want to receive more valuable industry content like this, click here to sign up for our digital newsletters!