Review: Beyerdynamic Headphones Provide High-End Alternative for Gaming and Music
Beyerdynamic headphones offer gamers and music lovers a choice of products that leverage the company's professional audio roots.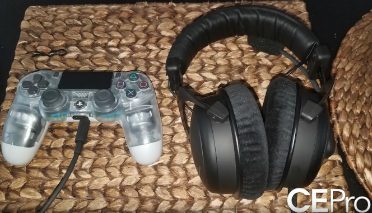 Ever since the introduction of the iPod, headphones have become an important part of the consumer audio market.
These days, headphones are used by everyone including professional audio engineers, business travelers, and even children. Beyerdynamic provides the consumer headphone category the benefit of its many years of experience developing headphones for professional users.
We asked three CE Pro staff members to test out and write a brief review of the company's MMX-300, Custom Game, and Aventho Bluetooth headsets to see if they stack up to the competition.
MMX-300 Headphones Produce Clear Dialog
Targeting the top of the gaming headphone market, the MMX-300 headphones come with a nice carrying case, a choice of connecting cables, and a microphone.
MMX-300 Specifications:
Closed-back design.

A choice of connecting cables, and a protective carrying case.

Built-in microphone.
Retail price is $349.
After unpacking the MMX-300 headphones, I chose the cable I wanted use, which I connected to my Playstation 4 controller. Fidgeting with the connections, I finally got the headphones to work. Reading up on the headphones I found that you have to jam the connector into the headset to hear an audible click.
Immediately after I started to use the headphones, I had no trouble voice chatting and sending messages.
The main draw to the MMX-300 is its sound quality. I could easily hear incredible definition while playing NBA 2K18. The game features a lot of ambient noises, including crowd chants from the stands, in-game music, and occasional color commentary, and I could distinctly hear each one with a very rich and strong sound.
My only complaint so far is I don't have the ability to adjust the audio levels of chat and game audio on the headset.
One thing I really love about my Sony headphones is that it has a small controller on the side, allowing me to both shift between the chat and game audio and adjust their levels as I see fit. The MMX-300's force me to go into the PlayStation options and have the chat audio come through the headset, and the game audio through the TV in order to adjust them independently.
Outside of the sound quality, what makes these headphones stand out is that I don't have to worry about recharging them. Since the headphones require a cabled connection, I can game for hours without having to worry about them running out of juice.
Between the sound quality, comfort, and cabling options, the MMX-300's add up to a top-of-the-line pair of gaming headphones that outperform others I have tried.
–Larry Holmes, online content producer
CUSTOM Game Headset Gives Bass a Boost
The ~$200 gaming headset market is extremely competitive, with mainstays like Astro, Turtle Beach, and Triton earning the lion's share of the profits. The Beyerdynamic CUSTOM Game headset looks to shake up the channel, providing a lot of what gamers expect at this price point.
CUSTOM Game Specifications:
Closed-back design.

Built-in microphone.
A choice of connecting cables.
Sound slider with four audio profiles to address various gaming environments.
Retail price is $209.
The CUSTOM Game comes with all of the necessary cables to connect to any modern PC, including a 6.35 mm jack adapter, and a 1.5 meter Y-extension cable. This allows gamers to place the cable behind a computer tower, freeing up the front-facing ports for other tech.
One thing that sets the CUSTOM Game headset apart from a lot of its competition is the sound quality out of the box. While some direct competitors like the Astro A40s require a mix-amp and some software tweaking to provide high-quality sound, the Beyerdynamic are about as plug-and-play as possible. This makes them ideal for LAN parties and gaming tournaments where users regularly switch between PCs.
Testing the headset with a variety of games like Prey (2017), League of Legends, and Dead Cells, all styles of audio from custom orchestral scores to 16-bit sword slashes came across crystal clear, with a welcome touch of bass that gaming headsets often lack.
Another novel feature of the CUSTOM Game is the sound level slider on the bottom of the ear cup, allowing users to switch from a completely closed design perfect for shutting out ambient noise, to a completely open design providing thundering bass. The switch is also entirely mechanical, giving the headset a premium feel.
While some competitors at this price point use lithium-ion rechargeable batteries (much like a smartphone), I prefer Beyerdynamic's approach of using a more traditional passive design. This means that for the entire testing period, I never had to even think of recharging the headset!
The only quibble I had with the headset was the mic's noise-gating capabilities out of the box. To Beyerdynamic's credit, they do include a foam mic shield, but this wasn't enough to muffle the keystrokes of the Cherry MX Blue switches in my keyboard, or the drinking/eating noises while I attempted to grab a snack in between rounds. This can be slightly improved in Discord/Skype settings, but those programs tend to noise gate a little over-aggressively.
–Andrew Nichols, web editor, CE Pro
Aventho Bluetooth Headphones Offer Bespoke EQ
The Aventho Bluetooth headphones are primarily designed for wireless audiophile listening, traveling, and work.
Aventho Bluetooth Specifications:
Built-in Bluetooth with aptX HD.

Adaptable acoustically to users hearing to personalize the listening experience.
Wireless connectivity with up to 30 hours of battery life.
Companion app supports custom listening applications.
Retail price is $449.
The headphones come with a carrying pouch that includes a USB charging cable and an analog 3.5mm detachable cable. I tested the headphones using both its wired and wireless mode, using a MacBook Pro and iPhone 8 for wired testing, and via an iPad mini for wireless testing.
Fortunately, Beyerdynamic makes pairing with other Bluetooth devices easy. All I had to do was press a button on the bottom of the right headphone, open the device settings from my iPad, and pair them together.
Later I downloaded the companion MIY app to see if there were any special functions worth checking out. Through the app, I was able to create a custom listening profile based on my hearing efficiency, which was pretty neat, even if it did remind me that I am getting older.
I did prefer a standard flat EQ (equalizer) setting over the custom setting, but I think for some, the custom setting may be more pleasing.
As for the sound quality, the headphones sound excellent. Most of my listening was done with content from Apple Music and podcasts, but I imagine physical media will sound equally great.
The headphones are balanced, with good detail and good dynamics. Fans of rock, jazz, and blues won't be disappointed with the sound quality.
Listening to the layers of detail found in dense rock recordings, as well as the dynamics of content ranging from Led Zeppelin to Tool, I could clearly see some of the company's professional heritage coming through.
Due to being a pair of on-ear headphones, the Aventho's won't deliver the same level of noise isolation some over-ear headphones provide, but in my testing, outside noise was never a distraction.
If users wear the headphones often, they shouldn't feel too much discomfort, as the headphones feel well built. Personally, over long periods of testing they did not feel cumbersome or heavy like some of the traditional audiophile "cans" that populate the market.
It could take a little bit of time to get used to physically having to turn the headphones on and off, but once you do it a few times it becomes part of the routine.
One of the best things about the Aventho headphones is the voice system that tells you the headphone are on, off, or the battery percentage. Other Bluetooth headphones include LED indicator lights, but knowing the battery is at 60 percent or 80 percent provides a better user experience.
My only concern with these headphones is the price point. The Aventho sit in the top tier of the Bluetooth headphone market, which may exclude some from looking at the product.
–Bob Archer, senior editor, CE Pro
Closing Thoughts
Each of our staff members were impressed with the headphones they received for testing. While no pair of headphones is perfect, Beyerdynamic delivered on its reputation of providing high-performance audio equipment.
If pricing isn't a major concern, we highly recommend the MMX-300, CUSTOM Game, and Aventho Bluetooth headsets for those looking to improve their gaming or music listening experience.