Supporting work from home (WFH) activities as the world quickly accepts today's working conditions, Crestron has introduced its UC-MM30-R Home Audio Conferencing System.
Citing studies from organizations such as Realtor.com, Crestron points out that "Zoom Rooms" are now trending in the real estate market, and its UC-MM30-R serves as an enterprise-grade conferencing solution for residential applications.
"Today's hybrid workforce has realized they need their home office spaces to provide flexibility, reduced complexity, and the organizational functionality that they have when they are in their workplace, but the current solutions on the market don't offer enterprise-grade robustness nor integration with high-performance home control solutions," states John Clancy, Vice President, residential at Crestron.
"The Crestron Home Audio Conferencing System uniquely provides today's executives the high-performance conferencing solutions they're used to at work, in their home."
Full Featured MM30-R is Home and User Friendly
Crestron explains that its new home audio conferencing solution utilizes a low-profile design that includes a 7-inch high-resolution touchscreen, a built-in loudspeaker, and a four-microphone array that captures audio in a 360-degree pattern.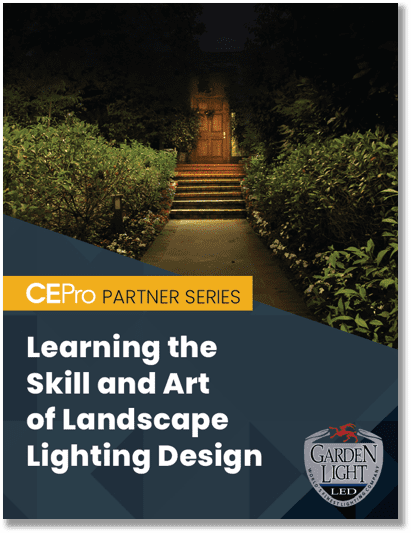 Experts recommend landscape lighting design as an entry point for integrators into the revenue opportunity of home lighting. Check out our new resource for tips and best practices. Download "
Learning the Skill and Art of Landscape Lighting Design
" today!.
The N.J.-based technology company points out the MM30-R works with PCs and Apple computers. Using the touchscreen, homeowners can control their system's volume and they access their Crestron Home system since the unit integrates into Crestron Home.
Through the use of the touchscreen, homeowners can control their lighting and shade systems, as well as their HVAC systems, security systems and audio systems. Crestron stresses that scenes and schedules made with Crestron Home systems can be customized to adjust to any combination of devices.
An example the company sites is the scenario in which someone enters into a call on the MM30-R, an "On a Call" scene can be activated in which the lights brighten, the shades close, the audio from the whole-house AV system pauses, and an indicator light just outside the room where the call is taking places lights up red.
Once the call is over Crestron notes, users can then press the "Off the Call" scene that turns off the call indicator light outside the room, and the music will start back up. The shades and lights will also return to their previous settings.
Crestron adds that homeowners can also use their favorite collaboration platforms with the MM30-R, including Zoom Rooms, Microsoft Teams, Google Meet, Slack and others.
Moreover, the easy-to-install conferencing solution omits the need for programming. Using either Wi-Fi or Ethernet communication links with Power over Ethernet (PoE), the MM30-R integrates seamlessly into Crestron Home.
MSRP for the Crestron Home Audio Conferencing System (UC-MM30-R) is $1,500.