About a year ago, Crestron launched its Crestron Home line of products to help integrators meet the growing appetite of the public for smart home systems.
Crestron Home is a powerful, flexible and more user-friendly smart home solution that reflects the current state of the home technology industry.
Aggressively supporting Crestron Home with its huge research and development (R&D) team, Crestron quickly showed its commitment to its new platform, which in turned enabled its dealers to feel confident offering the system to their clients.
Showing how versatile the system is, and how well versed its dealers are at implementing Crestron Home, Crestron sent Jon and Matt Herbster, owners of Audio Innovations to my house to update and upgrade my existing Pyng system.
As a matter of full disclosure, normally I would setup and install review products, but since I am not trained on Crestron Home, my review for this system is a result of witnessing Audio Innovations installing the system; interviewing Audio Innovations, and using Crestron Home.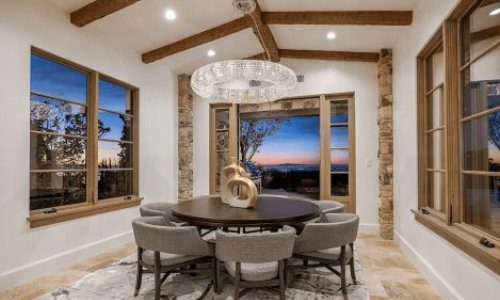 As a custom integrator, lighting is in demand. Effective communication, education and showcasing the value proposition of LED light fixtures in conjunction with integrative control systems are the keys to overcoming challenges and closing sales in this specialized market. Join us as we discuss the future of digital lighting and control with David Warfel from Light Can Help You and Patrick Laidlaw and Mark Moody from AiSPIRE.
Register Now! 
Crestron Home Features and Installation
The first thing I will point out is that Crestron Home provides smart home functionality for all facets of the modern home. Some of those sub-systems include AV, lighting, HVAC, shades and security.
Coming into my home, Audio Innovations addressed my HVAC by adding a second thermostat; they added a 10-inch touchscreen for whole-house control; they replaced my whole-house audio amplifier, and they added full universal remote control for my home theater.
Additionally, Audio Innovations integrated my existing lighting, upper zone thermostat and shades. To execute the goal of upgrading and augmenting my Crestron components Audio Innovations specified these products:
I should also point out that in order to fully support the capabilities of the Crestron Home system Audio Innovations recommended an upgrade of my home network. I will stress my network has always been stable and performed without any issues, but Audio Innovations had reliability concerns.
Jon Herbster, co-owner of Audio Innovations, felt strongly based on his experience with using networks that weren't true high-performance solutions that Crestron Home may not operate to its full potential, so he specified an Access Networks Core system.
The full installation of the Crestron components, Access Networks system, and the configuration of the Crestron Home system took about two days.
---
CE Pro Features
Crestron Home provides a wealth of AV, lighting, shade, HVAC, interface, and work from home configuration options
The Crestron Home platform offers a choice of touchscreen, remote control and app control capabilities
Streamlined system configuration enables integrators to set systems up in a much quicker and easier fashion than writing customized code
MSRPs vary upon configuration and dealer labor
---
This installation included pulling category cables, the physical installation of the wall-mounted touchscreen and thermostat, the replacement of a light switch, and system configuration.
Additionally, I should also note, Jon and his brother Matt, who did the configuration did walk me through the key features of both of my systems.
Performance and Final Thoughts
I do not want to disrespect the Pyng system that was in our house, it worked fine, but Crestron Home really does bring the idea of the modern smart home to fruition.
Immediately after the system was installed my family started to use Crestron Home without me showing them how to play their music or using other functions such as the lights.
Navigating the system using the 10-inch touchscreen is simple: Press the home button on the upper right corner of the touchscreen. The touchscreen will instantly wake up and display the last "room" that was activated. On the bottom of the screen you will see another "home" button, along with a "rooms" button and a "more" button.
Pressing the "rooms" button will show all of the rooms in your system. After selecting a "room" the touchscreen will display the Crestron system's available in that room. For example, in my kitchen we have climate, music and lights as options.
I can select climate to adjust my home temperatures; I can turn music on or off and select playlists or favorited music, and I can control my lights. The Crestron Home app also duplicates that same user experience to make learning the system's function a more streamlined experience.
One of the things that I appreciate most about the app and touchscreen is how quickly they respond to commands. Both products wake up quickly and respond instantly to commands. There is no waiting for a function to "spin up," which defeats the convenience of using a system like Crestron Home.
I also like the little things that may go unnoticed but make a big difference. A good example I can point out that underscores how well Crestron Home addresses those little things is the thermostat in my "music room." The Crestron thermostat replaced a popular smart, programmable thermostat that worked fine, but was a bit quirky. The popular thermostat would activate and bring my room temperature up to 68 degrees when I was in it, but a couple of hours afterwards it would shut the room down to my base setting of 62 degrees. As a result, if I were in the room watching movies or sports for an entire evening, I would have to go over to the thermostat and turn the heat up during the winter months.
The Crestron thermostat allows me to simply turn up or turn down the heat with its hard keys when needed. This is the way I wanted the thermostat setup. My upstairs Crestron thermostat is setup differently. It runs on a day/night schedule to help my home to better regulate our heating costs. These little things mean a lot in the grand scheme of things.
Not to overlook the amplifier, which I am admittedly barely tapping into, it easily drives my kitchen's James corner, wall-mounted speakers, and Russound in-wall speakers that are in my bedrooms.
I'll add the amp also sounds full and balanced playing streaming content from TuneIn and streaming sources via a Sonos Connect.
One of the other important parts of my Crestron Home system is the TSR-310 remote control.
Matt configured the remote to sequentially turn on when I press either the "Dish," "Apple TV' and "4K Blu-ray" buttons. With a button push, the source will turn on, then my Onkyo receiver, then my Epson projector will power up. Each source has complete control built into its navigation menus. I can also control system volume and more using the remote without leaving specific menus.
The system turns off just as easily as part of the system off procedure. Matt configured the Epson 6050's power down properly with two presses of the power button to confirm the off function.
Maybe the coolest part of the Epson projector's control underscores the vastness of support accessories that are available to the Crestron Home product line. To control this product without pulling more wires through walls or across the room, Jon utilized an infiNET EX Wireless Relay/Control Input Control Module. The module eliminated the need for cable runs and it works flawlessly without any sort of response lag.
The remote also enables me to control my music room's thermostat, lights and shades so I no longer have to get up to shut the lights off when we have family movie nights.
As you can tell I am thoroughly impressed with Crestron Home, its capabilities and how well versed Audio Innovations was in the product line. In living with Crestron Home I think Crestron is providing its dealers with a system that suits the needs of today's homeowners and a system that is flexible enough to meet their needs as the smart home market evolves to include future technologies and trends such as work from home (WFH).
---
CE Pro Final Verdict
Pros:
Crestron Home is intuitive for homeowners to understand and use
The diversity of the Crestron Home ecosystem supports just about any smart home requirement homeowners will want
The investment into Crestron Home serves as a means to run systems such as lighting and HVAC more efficiently to support homeowners' environmental conservation and utility cost saving efforts
Cons:
This isn't a fair statement, but the only "con" is that Crestron Home is so new (it is approximately a year old) that Crestron is still building out support for integration with certain products. It does however, currently support thousands of products
If you enjoyed this article and want to receive more valuable industry content like this, click here to sign up for our digital newsletters!