Supporting commercial and large residential applications, the new AudioControl CM range of amplifiers provide 70 volt and Dante capabilities.
Dante is an uncompressed, multichannel digital audio format that moves data over a standard IP network using Cat-5e, Cat-6 or fiber optic cables with almost no latency.
AudioControl explains the inclusion of the Dante digital audio protocol enables integrators to design and install digital audio systems where any source throughout the network can be utilized to create limitless system design options.
Currently there are more than 1,600 Dante-enable devices on the market that address a range of system integration scenarios.
AudioControl Offers Choice of Models, Broad Range of Usages
Available in a choice of three models—4-channel, 3-channel and 2-channel—the amps deliver 750 watts per channel in 70/100-volt mode, 500 watts per channel into an 8-ohm mode (stereo or mono) and 750 watts into 2- or 4-ohm loads.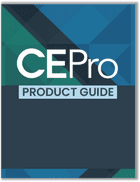 CE Pro's 2022 Product Guide showcases some of the latest and innovative solutions from manufacturers serving the custom electronics industry in a cross-section of categories.
Download the guide now!
The amps can also be set up as single-channel monoblock units to deliver 1,500 watts operating in a bridged mode into 70/100-volt or 4/8-ohm loads.
Each amp includes a total of eight analog inputs, along with four digital stereo inputs. The four outputs can be individually controlled or controlled as stereo pairs to provide setup flexibility.
According to AudioControl, the CM series of amplifiers are unique in the world of amplification through their DSP control and matrix options. AudioControl states these options support a broad range of usages, including houses of worship, boardrooms, hospitality, collaboration systems and whole-house audio systems.
Integrators can manage the amplifiers remotely using a web browser or the company's app for PC, Mac, iOS and Android, and connection options such as IP and/or RS-232.
AudioControl adds the amps are made in its Washington state facilities and the products are backed with a five-year warranty.