Savant Pro 9.4 OS adds Deezer HiFi into its Music Services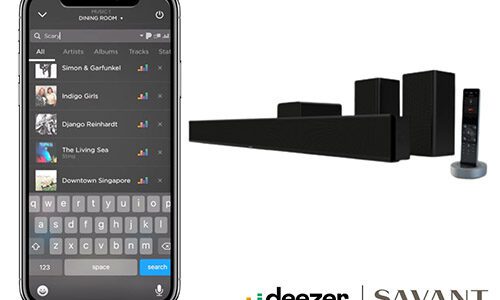 Bolstering the quality of its streaming audio services, Savant has integrated Deezer HiFi into the Savant Music experience via Savant Pro 9.4 OS.
According to the Cape Cod-based company, users can now fill their homes with the music of their choice in lossless audio quality, through its selection of smart home audio products. 
Savant Pro 9.4 software allows users to enjoy an on-demand music experience within a personalized and customizable app, letting all users access Deezer music effortlessly. Users can also enjoy top sound quality in lossless FLAC audio, just like you'd hear from a CD. The service plays the full range of frequencies that the human ear can hear (16-Bit/44.1 kHz), while making sure that data and energy isn't wasted on huge file sizes. 

The Deezer HiFi experience with Savant allows you to:
● Play Deezer HiFi on any Savant enabled audio product to experience exceptional sound quality.
● Search for and play a song directly from the Savant app. Simply type in your favorite artist to discover albums, tracks and more in one easy-to-navigate app experience.
● Wake up to your favorite tunes, party to the best playlists or listen to relaxing music
● Savant 'scenes' include music settings as well as lighting, shading, and other entertainment settings. Press one button to activate multiple devices and create the perfect mood for any occasion.
● Control all of your music from on all mobile devices, Savant Remotes and in-wall touch screens.
● Create a unique personalized dashboard experience on the app of favorite albums, artists, playlists, podcasts and more.
All Savant users will also benefit from a free two-month trial of Deezer HiFi. Deezer HiFi offers advert-free access to over 70 million tracks in high fidelity, plus exclusive artist content from the dedicated 'HiFi Room', as well as a wide range of curated and personalized content for every listener.
"Our new partnership with Savant means that enjoying exceptional sound across your home couldn't be any easier. Together we're bringing music fans the best lossless quality music with just a quick touch of a button. HiFi music brings out the best from every song. Experiencing music through high quality speakers in the home will really make your smart home stand out," comments Deborah Jourdan, head of North and Central America at Deezer.
Savant also points out that Deezer has made the free two-month trial easy to access. The smart-home company instructs consumers to ask their Savant representative for the free trial code or open Deezer on the Savant app and redeem instantly. 
More news from Savant: CE Pro Podcast #57: Savant Invests Heavily in Audio