Fender, MoFi Introduce Fender X MOFI Precision Turntable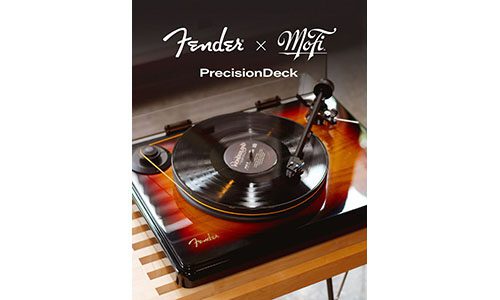 The American musical instrument manufacturer Fender has partnered with the audiophile equipment manufacturer MoFi to launch the Fender X MOFI Precision Turntable.
Fender's new Fender X MOFI Precision Turntable features a made-in-U.S.A. 10-inch tonearm, along with a 300 RPM stepped-pulley AC motor, and anti-vibration feet by HRS. Other features of the new turntable include a 1.3-inch Delrin platter that is said to provide a high levels of mass to help create a lower noise floor.
According to Fender and MoFi, the Fender X MOFI Precision Turnable also utilizes a stainless steel inverted bearing, and Fender points out the table can play records at 33 1/3 and 45 RPM speeds.
In addition, the turntable employs a Micro-line diamond stylus that is shaped like the cutting head of a record lathe. The design of the stylus is said to trace a record's groove walls with microscopic precision, and the stylus' dampened billet aluminum body is said to control resonances for tight, accurate bass. Fender notes the moving coil (MC) phono cartridge rated output is 3mV.
Moreover, Fender emphasizes the turntable is finished with its famous three-color sunburst finish that has been used on its instruments for decades.
MSRP for the Fender X MOFI Precision Turntable is $3,495.
More news from CE Pro: CE Profile: Ovation is Re-Imagining the Showroom Experience