Straight Wire Gray Lightning, Black Thunder II, Pro Thunder Power Cables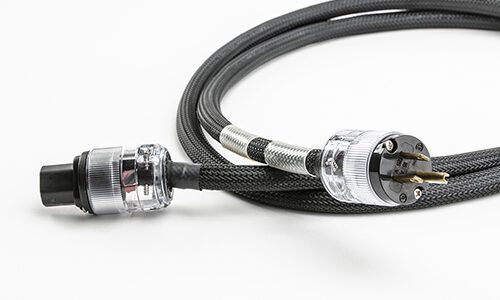 According to Straight Wire, 70% of power cables effects are mechanical and not electrical.
The company explains the power that travels over the Romex in homes can have deformed sine waves, over/under voltages and could contain EMI/RF noise. Some of these issues can be fixed with power conditioners and voltage regulators, but there are still problems that exist with mechanical vibrations such as 60Hz, 120Hz, 240Hz harmonics.
Providing a solution to help deal with these issues, Straight Wire showed its Gray Lightning, Black Thunder II and Pro Thunder power cables at the recently completed CEDIA Expo 2021 show in Indianapolis.
Straight Wire points out the Gray Lightning features Form TPR insulation, along with four conductors at 15 AWG of CDA 102 compressed copper with tinned shielding. The cable also includes a 15 amp wall plug and IEC female plug that are hand terminated.
The company's Black Thunder II power cable utilizes multiple 18AWG stranded CDA 102 OFC conductors with PFA insulation. Straight Wire notes PFA is a premium PTFE material from the DuPont Teflon family of product that totals 10AWG.
Rounding out the three cabling products on display at CEDIA Expo 2021 was the Pro Thunder power cable. The Pro Thunder is made with eight conductors of OFHC CDA 101 that totals 9 AWG per polarity. Straight Wire says this cable and its design is intended for larger power amps to help these amps deliver the dynamics necessary for music, while maintaining a low noise floor.
More news from Straight Wire: Sonos to Raise Prices on Majority of Wireless Speakers
Product Info:
Product Name:
Gray Lighting, Black Thunder, Pro Thunder Power Cables