Savant
Smart Family of Entertainment Products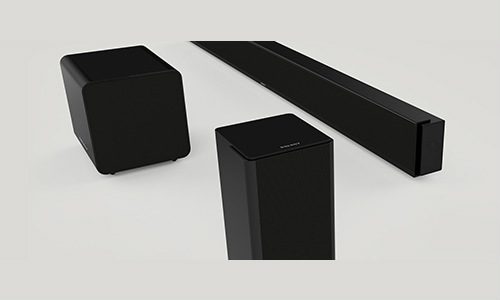 The new Savant Smart Family of Entertainment Products features a powered 55-inch, three-channel LCR soundbar, Smart Audio Wireless Powered Surround Speakers and the Smart Nano 1X Subwoofer.
Savant explains the speakers provide homeowners with a choice of solutions that incorporate smart features such as Spotify, Pandora, SiriusXM, TuneIn, TIDAL and more.
"The Savant Smart Audio Family of products looks better, sounds better and is smarter than any line of entertainment products on the market," states George Katsiris, Vice President, product evangelist, Savant.
"This is the world's first surround sound system that can control the TV and become the foundation for a complete smart home, giving integrators a tremendous opportunity to satisfy every client with the features they want now and those they may desire in the future."
Savant Smart Family of Entertainment Products Features WiSA and DSPs
Supporting the line of products' smart features are options such as the wireless protocol WiSA. This licensed technology transmits 24-bit wireless audio at either 48kHz or 96kHz with less latency than Bluetooth.
In addition, the line of products were designed by Cary Christie, and as part of Christie's design goals, the speakers utilize DSP technologies to ensure their performance.
Related: TechTalk: Savant Says Better Sleep Starts with Personalized Circadian Lighting
Product Info:
Manufacturer:
Savant