Primex
PXU Gigabit Network Switch Series with PoE+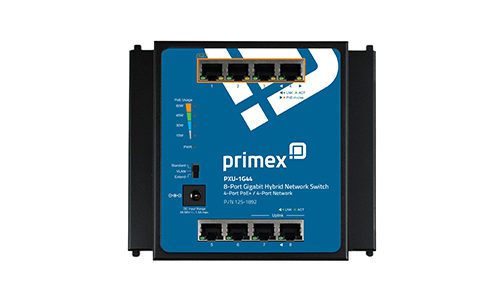 The Canadian manufacturer Primex, has announced its new PXU Gigabit Network Switch Series with power over Ethernet+ (PoE+).
Primex, a company that offers a range of enclosures, including media panels and specialized networking solutions, says the new network switches are engineered to deliver plug-and-play connectivity for IP components within its SOHO Pro media panels.
According to the company, the PXU Gigabit Network Switch Series with PoE+ offers a choice of three models that all provide eight ports of connectivity: 8-port network, 4-port network/4-port PoE+, and 8-port PoE+.
The company emphasizes the products can be used for a range of applications, and they support a number of residential technology installation scenarios. Primex notes the network switches' 802.3x compliance supports reliable power for IP cameras, phones, access points and other network devices that require convenient power.
Primex also points out the hybrid network switch model provides four PoE+ ports with 60 watts of power, along with four unpowered ports. The eight PoE+ port model provides 120 watts total output power. 
Additionally, Primex states, the network switches' hook-based mounting system helps to facilitate a quick and easy installation within its SOHO Pro series of media panels.
Moreover, all of the products incorporate their RJ45 and power connections on their front panels, and the products provide three operational modes: standard, VLAN and extend.
More news from Primex: CEDIA Expo Virtual Preview: Primex Adds NEMA Enclosures to Meet Dealer Demand
Product Info:
Product Name:
PXU Gigabit Network Switch Series with PoE+
Manufacturer:
Primex