Panasonic
PressIT Wireless Presentation System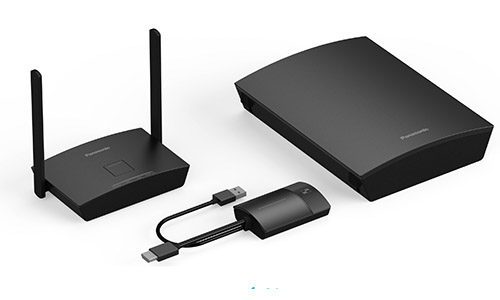 Pointing out the importance collaboration in today's workplace, Panasonic has recently introduced its PressIT Wireless Presentation System.
Panasonic says that many companies are investing into bring your own device (BYOD) collaboration solutions, and its new PressIT Wireless Presentation System provides users with a plug-and-play system that supports BYOD.
According to the giant global electronics company, the collaboration system eliminates the need for cables, and it makes meetings efficient. The PressIT system is as easy to use by simply connecting the receiver to a projector or display, and then plugging the transmitter to the presenting device. Once the connections are made all users need to do is press a button to share their content.
Panasonic offers two versions of the system: The basic system includes a set-top-box (STB), and the other version includes a SDM receiver.
The SDM receiver is designed to fit inside the Intel SDM expansion slots of displays to eliminate cabling connections between computers and displays.
Panasonic adds the PressIT system delivers a full 1080p resolution, and the company emphasizes the IEEE802.11ac compliant solution minimizes latency and buffering to produce smooth images.
More news from CE Pro: Former AVIXA Exec Jason McGraw Joins Emerald to Oversee CEDIA Expo
Product Info:
Product Name:
PressIT Wireless Presentation System
Manufacturer:
Panasonic