Nortek Security & Control
Linear Entry Pro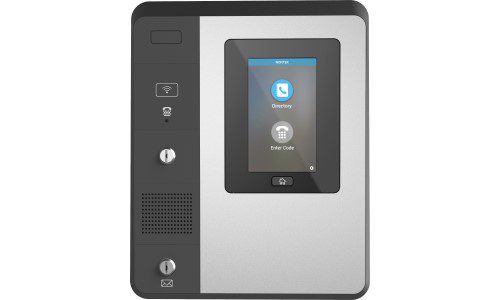 Nortek Security & Control introduces its browser-managed Linear Entry Pro EP-736, EP-436 and EP-402 telephone entry systems.
Linear says it designed the Entry Pro to enable small businesses, gated communities, gym facilities and those living in multi-dwelling residential buildings to have more reliable and intuitive access control capabilities.
The Linear Entry Pro EP-736 with 7-inch touchscreen as well as the EP-436 and EP-402 models with a 4.3-inch display feature adjustable backlighting and an LED screen that is said to be easy to read in direct sun.
For further protection against harsh weather elements, the Entry Pro's new faceplate is engineered with weatherproofing seals and an improved housing, according to the company.
In addition to a more powerful CPU board, new features include a motion sensor, ambient light sensor and optional HD IP camera. The Entry Pro software has also been upgraded for easier navigation with prompts such as tonal cues and flashing keys to guide users through steps.
This new software is also available for direct download on all Linear legacy EN/EC telephone entry panel products so existing customers can also have the ability to benefit from the advancements to audio performance and network communications it provides, according to the company.
Related content: Nortek Prevails in Chamberlain Patent Lawsuit Over Access Control Barriers
Product Info:
Product Name:
Linear Entry Pro
Manufacturer:
Nortek Security & Control