Netgear
PoE+ Gigabit Ethernet Plus Switches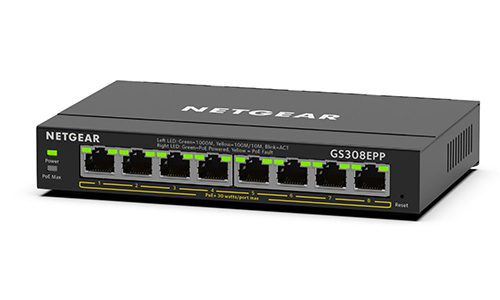 The global networking company Netgear has announced the introduction of its PoE+ Gigabit Ethernet Plus Switches.
Netgear says that its latest product releases include the GS305EP, the GS305EPP, the GS308EP and the GS308EPP models, and these switches are engineered to provide the fundamental features that small businesses require.
According to Netgear, today, small businesses are expanding their usage of Ethernet-powered IP devices such as VoIP phones, IP cameras and wireless access points (WAPs).
Addressing this growing need, Netgear introduced its PoE+ Gigabit Ethernet Plus Switches that incorporate PoE+ power, as well as essential management features. Some of these features include VLANs, QoS, port mirroring and uninterruptible PoE.
The PoE+ Gigabit Ethernet Plus Switches also provide features such as auto sensing 10/100/1000 Mbps non-blocking Gigabit Ethernet ports, and they provide PoE power budgets up to 123 watts.
Additionally, the switches incorporate IGMP snooping, Loop Detection and Auto DoS Prevention and Cable Test options.
More news from Netgear: NetGear Debut Third-Party AV-over-IP Control, 100G Switches
Product Info:
Product Name:
PoE+ Gigabit Ethernet Plus Switches
Manufacturer:
Netgear