Modulus
Mx1 "Mini" Home Entertainment Solution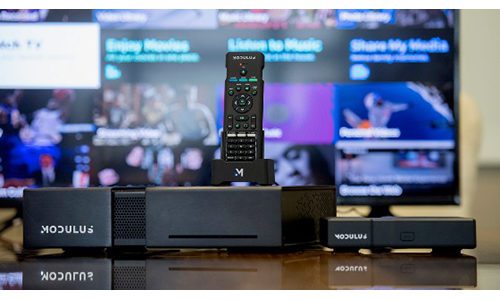 The digital home entertainment company Modulus has introduced its new Mx1 "Mini" entertainment server.
Modulus is showing its latest home entertainment solution at CEDIA Expo Virtual 2020, and the Austin, Texas-based company explains the Mx1 provides many of the same features of its M1 product in a smaller form factor.
Through the unit's smaller form factor, Modulus says that professional integrators can extend the media content of their customers to any room of their homes.
Modulus points out the Mx1 incorporates Ethernet and Wi-Fi network connection options. The unit is also compatible with the M1 product's six tuners, as well as the M1's streaming capabilities and built-in Blu-ray drive. The mini unit will in addition work with the M1's external 4K UHD outboard optical drive to deliver a range of content options to homeowners.
Ensuring the mini unit is easy to use, the product comes with the M1's "ultimate remote" to provide users with the same user experience as the M1.
The company adds that through the Mx1 Mini's 1.6-inch thickness integrators can hide the unit behind wall-mounted TVs or on bookshelves. The Mini's USB also supports the connection of Modulus' external 4K Optical Drive to allow users to play UHD discs, Blu rays, DVDs and music CDs as a local source.
More news from Modulus: Modulus Media Stream-Recording Patent Spurs Media Server Comeback
Product Info:
Product Name:
Mx1 "Mini"
Manufacturer:
Modulus