McIntosh MC3500 Mk II Monoblock Tube Amplifier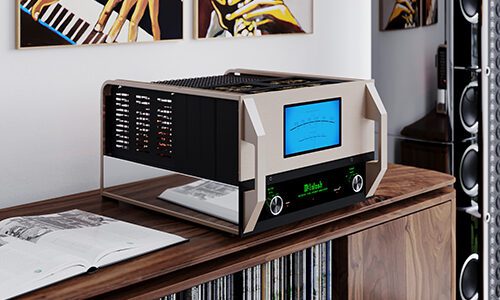 Originally used back in 1969 for sound reinforcement at Woodstock, McIntosh Labs is reintroducing its MC3500 Mk II single-channel amplifier.
McIntosh explains that its new MC3500 Mk II tube amplifier was developed by its engineering team to include modern features that highlight the company's decades of musical history. According to the Binghamton, N.Y.-based manufacturer, the monoblock tube amp is compatible with a range of preamplifiers, turntables, CD players, media streaming devices and speakers to help integrators form complete audio systems.
The MC3500 Mk II amp is rated to produce 350 watts of power through the use of modern internal parts and classic design elements such as McIntosh's Unity Coupled Circuit output transformer, which was used in the original version of the amp.
McIntosh points out the amp utilizes a fully balanced driver section that includes three 12AX7A and a single 12AT7 tubes. The output section employs eight EL509S tubes, which the company says are similar to the 6LQ6 "sweep tubes" that were used in the original amp.
The tubes and output transformer are protected by a 12-gauge stainless steel wire cage, and the MC3500 Mk II amp also provides a choice of balanced (XLR) and unbalanced (RCA) inputs to support its integration into stereo and home theater systems.
Other features built into the new amplifier include the company's Power Guard Screen Grid Sensor technology that prevents early tube failure, and McIntosh's Sentry Monitor technology that tracks the amp's output current to ensure the amp operates within safe limits.
More news from McIntosh: McIntosh Recalls Woodstock on Festival's 50th Anniversary
Product Info:
Product Name:
MC3500 Mk II Monoblock Tube Amplifier
MSRP:
$15,000