Lyngdorf Audio
CS-1 In-Cabinet Speaker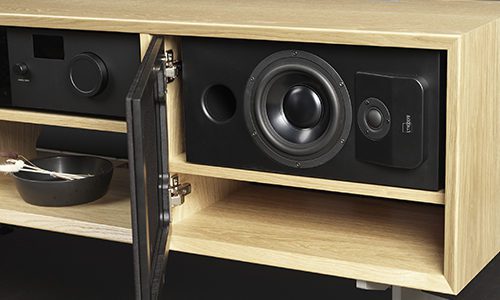 The European audio manufacturer Lyngdorf audio has just introduced its new CS-1 in-cabinet speaker.
Lyngdorf Audio says that its latest loudspeaker is a compact, full-range speaker that is specifically designed for placement in cabinets and furniture.
Engineered as a horizontal loudspeaker, the CS-1 is a bass-reflex, front-ported design. Lyngdorf Audio explains as part of its new speaker's design, it elevated the tweeter's placement, and it placed the tweeter on an angle. According to the company, the tweeter placement reduces sound diffractions from the edges of furniture when the CS-1 is placed within a cabinet. The tweeter placement also is said to improve sound radiation towards the listener area.
Some of the other design elements Lyngdorf Audio incorporated into its latest speaker includes engineering elements derived from its two-way FR-1 loudspeaker.
Lyngdorf Audio states that through the CS-1's front-port, bass-reflex design the speaker delivers linear lower-frequency extension down to 42Hz.
The company adds the speaker utilizes a solid MDF (medium density fiberboard) cabinet construction, along with an easy-to-clean matte-black lacquer.
More news from CE Pro: Vutec Announces Shut Down, Ceases Operation
Product Info:
Product Name:
CS-1 in-cabinet speaker
Manufacturer:
Lyngdorf Audio