Luxman
L595A Special Edition Integrated Amplifier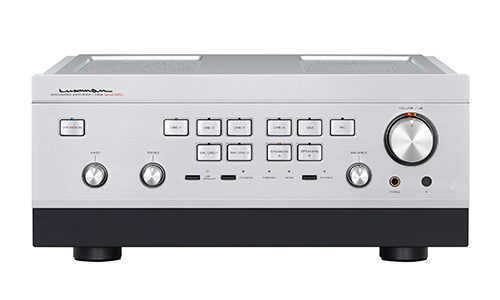 As part of the company's 95th anniversary, Luxman has introduced its L595A Special Edition Integrated Amplifier.
Luxman explains the new integrated amp's industrial design draws inspiration from the company's L-570 Series of products from 1989. The L595A Special Edition also carries a three-digit serial number as part of the Luxman's 95th anniversary, and the company notes there will be just 300 of the integrated amps made with only 100 heading to North America.
Unlike most modern Luxman amplifiers, the new L595A omits the integration of volume meters, as well as rotary input selector. Instead, Luxman employs aluminum-clad direct selection switches that includes an annunciator LED. The front panel is also accented by a black Alumite lower section that mimics the two-tone scheme of the original L-570 series.
Internally, the new Luxman integrated amplifier utilizes a Class A design up to its rated power at 8 ohms. Other design highlights of the L595A's amplification include the use of the company's Only Distortion Negative Feedback (ultimate) ODNF-u circuit, which the company says minimizes the errors associated with traditional negative feedback circuit designs.
In addition, the integrated amp incorporates the Luxman Electronically Controlled Ultimate Attenuator (LECUA1000. Luxman notes this technology was first used in its C-900u control amplifier. This computerized attenuator delivers volume adjustment across 88 steps, while minimizing distortion.
Luxman rates the L595A to deliver 30 watts into 8 ohms; 60 watts into 4 ohms, and the company says the amp is stable down to 2 ohms.
More news from Luxman: Luxman CL-1000 Control Amplifier
Product Info:
Product Name:
L595A Special Edition Integrated Amplifier
Manufacturer:
Luxman
MSRP:
$11,995