JBL Professional
DSi 2.0 Series Cinema Amplifiers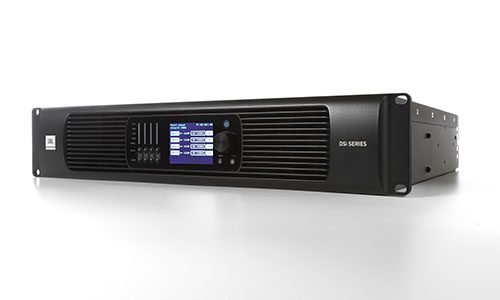 Entering the amplifier category, the newly launched JBL Professional DSi 2.0 Series Cinema Amplifiers leverages the technologies developed by sister Harman brand Crown.
JBL Pro says the DSi Series Cinema Amplifiers incorporate DSPs developed for Crown's CDi DriveCore Series of products, and the JBL Pro amps are available in a choice of three power ratings: 350 watts, 700 watts and 1,200 watts.
The company also points out the amps are also available in analog and analog-plus-digital versions that include Dante/AES67 and SNMP connectivity.
JBL Professional explains the DSi 2.0 Series Cinema amplifiers provide four channels of amplification with bridgeable outputs all from a 2U-high chassis.
The amps can safely drive up to four JBL surround speakers with a single channel in their high-power-density 2-ohm mode, and the amps' computing power is driven by 96kHz/32-bit floating-bit DSPs. The DSPs power options such as parametric EQ, FIR processing and LevelMAX limiting.
In addition, the amps also include built-in presets for JBL Pro cinema speaker tunings. JBL Pro notes that professional integrators can use the amps to power immersive audio configurations that include Dolby Atmos.
Related content: TechTalk: Harman Explains Proper Speaker and Subwoofer Placement
Product Info:
Product Name:
DSi 2.0 Series Cinema Amplifiers
Manufacturer:
JBL Professional