Hunter Douglas
Rechargeable Battery Wand for PowerView Shades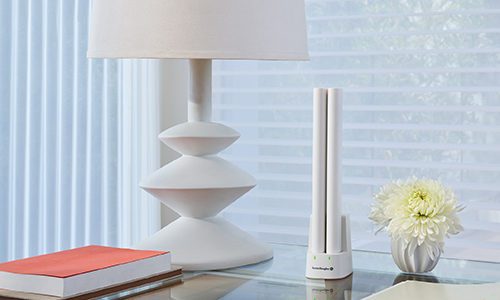 Supporting its PowerView line of automated shades, and the wishes a growing amount of homeowners, Hunter Douglas has announced its Rechargeable Battery Wand.
Hunter Douglas states that its latest product provides convenient, long-lasting power to its PowerView automated shades. Living discreetly behind the shade's headrail, the rechargeable unit provides a safe and convenient way to power automated shades.
The Rechargeable Battery Wand is easy to access for homeowners to enable users to swap battery packs for their shades when necessary.
Hunter Douglas explains the Rechargeable Battery Wand can be used with most of its shade products, and it can be retrofitted to existing automated shade products that are in the field.
The battery charge lasts as long as a year, depending on the amount of shade usage, and when the device needs a recharge the homeowner will receive a notification or email from the Hunter Douglas PowerView app. The solution comes with a spare battery, and the charging base charges two batteries in less than three hours.
Hunter Douglas emphasizes, the eco-friendly Rechargeable Battery Wand is UL listed to maintain the highest safety standards.
Further supporting the safety of the system, Hunter Douglas adds the device has an auto shutoff feature in the event that an unsafe temperature is met due to the unlikely scenario of high levels of sunlight.
More news from Hunter Douglas: Hunter Douglas PowerView+ and PowerView AC Systems
Product Info:
Product Name:
Rechargeable Battery Wand
Manufacturer:
Hunter Douglas