Ford
E-Transit All-Electric Cargo Van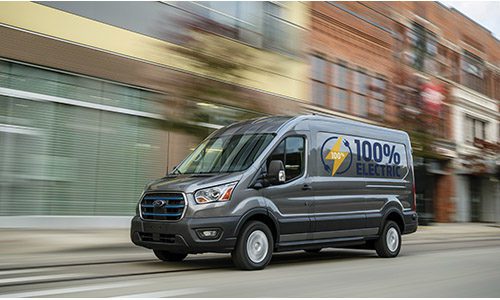 Ford Motor Company has just announced a new, all-electric version of its popular cargo van called the E-Transit.
The Dearborn, Mich.-based automobile manufacturer says that its latest product is backed by more than 1,800 global commercial vehicle dealers, including 645 in the U.S.
According to Ford, the E-Transit cargo van provides users with the same cargo dimensions and mounting points as its other models to support the integration of uplifters and other specific vehicle modifications.
Explaining the capabilities of its new cargo van in greater detail, Ford states the E-Transit features a battery capacity of 67 kilowatt hours. Through its battery storage the van will deliver approximately 126 miles of driving distance, and it offers AC and DC charging.
Other features include the optional Pro Power Onboard that provides up to 2.4 kilowatts of power to enable users to charge their power tools onsite.
Additionally, the E-Transit also includes a 4G LTE modem that once unlocked enables users to access their data subscriptions. Ergonomically, the cargo van's SYNC 4 communications system provides a 12-inch touchscreen, as well as voice recognition, and cloud-based navigation.
More news from CE Pro: CE Pro Podcast #32: Getting Up to Speed on HDMI 2.1 System Installs
Product Info:
Product Name:
E-Transit Cargo Van
Manufacturer:
Ford
MSRP:
Prices start at levels under $45,000