EnGenius Technologies
ECW260 Cloud Managed Wi-Fi 6 Outdoor Dual-Band AP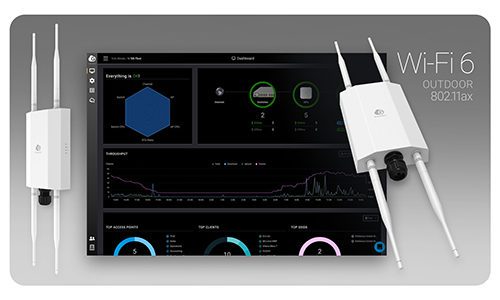 EnGenius Technologies, a two-decades old networking manufacturer has released its new ECW260 Cloud Managed Wi-Fi 6 Outdoor Dual-Band wireless Access Point (AP).
The networking company states that its latest AP incorporates the latest Wi-Fi 6 (802.11ax) technologies to enable the device to support the growing bandwidth requirements of dense outdoor environments. EnGenius says the ECW260 delivers wireless network speeds up to 1.8Gbps.
EnGenius points out that its Cloud solution is capable of managing an unlimited amount of APs.
According to the company, its cloud services scans, registers and auto configures, and it provides remote monitoring and troubleshooting capabilities .
EnGenius also says the ECW260 also incorporates a waterproof IP67-rated enclosure that protects the access point from the weather, dust and dirt.
Other features built into the AP include a 2.5GigE PoE-compatible port, four 360-degree antennas, and WPA3 and WPA3 enterprise security options.
More news from EnGenius: EnGenius Technologies EWS850AP Wi-Fi 6 Outdoor Access Point
Product Info:
Product Name:
ECW260 Cloud Managed Wi-Fi 6 Outdoor Dual-Band Wireless AP
Manufacturer:
EnGenius Technologies
MSRP:
$499