Emotiva
AIRMOTIV A1 AIRSPACE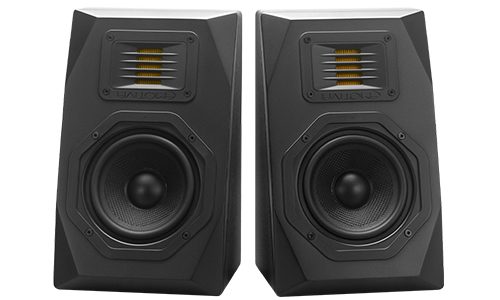 Adding to its line up of loudspeakers, the newly announced $299 per pair AIRMOTIV A1 AIRSPACE addresses a range of immersive audio applications.
Emotiva says that its new AIRMOTIV A1 AIRSPACE loudspeaker can be mounted to ceilings and walls, and it can be used to support Dolby Atmos and DTS:X soundtracks.
According to Emotiva, the two-way AIRMOTIV A1 AIRSPACE loudspeaker incorporates its 32mm Airmotiv folded-ribbon tweeter that provides "outstanding upper frequency response." The speaker also utilizes a 4-inch woven-fiber woofer that delivers "smooth, highly intelligible midrange and upper bass."
Emotiva explains that professional integrators can configure the speaker as a direct firing surround sound solution, or as a height speaker whose output is reflected from the ceiling.
The company adds the AIRMOTIV A1 AIRSPACE loudspeaker includes a keyway mounting bracket. When used as a ceiling speaker, Emotiva notes the speaker is placed on top of either the front left or right main speaker with its drivers facing the ceiling. Integrators can then use the frequency contour switch for ceiling bounce applications, and integrators can complete the installation by installing the speaker's companion angled directivity grille.
Related content: 4 'Bohemian Rhapsody' Scenes Perfect For Dolby Atmos Demos
Product Info:
Product Name:
AIRMOTIV A1 AIRSPACE
Manufacturer:
Emotiva
MSRP:
$299 per pair