Denon
High-Res Wireless Multiroom Speaker Series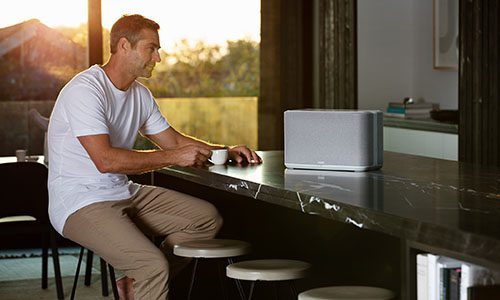 Providing homeowners with the latest whole-house audio technologies, the new High-Res Wireless 150, 250 and 350 Series of products utilize the company's HEOS platform.
Denon says that its new High-Res Wireless speakers can be used by professional integrators to assemble a range of multiroom audio systems via HEOS.
The products incorporate capacity-touch controls with options that allow users to select their favorite stations with a single button press.
According to the company, the products deliver reference-quality sound without the need to assemble traditional component-based systems. Users can stream Pandora, Apple Music, Spotify, Amazon Music HD, TIDAL and other services.
Denon also points out that users can play high-resolution audio files stored on local devices via Wi-Fi, AirPlay2 or Bluetooth.
In addition, Denon adds that all of the products will incorporate two microphones to support the future use of voice-control technologies.
The products are available in a choice of three product series:
Denon High-Res Wireless 150 Series:
The 150 series products utilize 1-inch soft-dome tweeters, along with 3.5-inch woofers, and the products carry an MSRP of $249.
Denon High-Res Wireless 250 Series:
The 250 series employs a pair of 3/4-inch soft-dome tweeters, and a pair of 4-inch woofers to fill a variety of rooms with sound.
MSRP is $499
Denon High-Res Wireless 350 Series:
Developed for larger rooms, the 350 series provides users with a USB port to enable the connection of storage devices that contain high-resolution audio files.
The 350 series is compatible with 24-bit/192kHz files, as well as FLAC, WAV, ALAC and DSC 2.8/5.6MHz files.
MSRP is $699
Denon also points out the 350 series feature two 3/4-inch tweeters, two 2-inch midrange drivers and a pair of 6.5-inch woofers.
The 350 series can be configured for use in HEOS-equipped home theater systems in addition to its whole-house audio capabilities.
Product Info:
Product Name:
Denon Home 150, 250 and 350 High-Res Wireless Multiroom Speakers
Manufacturer:
Denon