Crestron
Horizon Keypads, Dimmers, Outlets & Keystones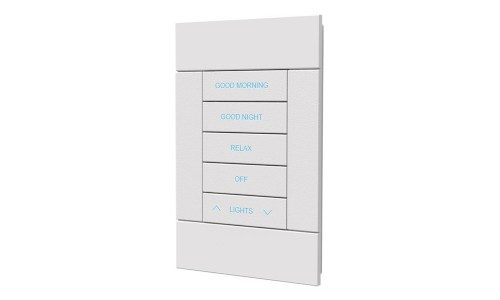 Custom integrators can now deliver an elegant, consistent look throughout their clients' homes with matching Crestron Horizon keypads, dimmers, outlets and keystones, the Rockleigh, N.J., company has announced.
Built to accentuate any décor, the Horizon product line offers custom control, from dimming lights and listening to music, to adjusting shades and plugging in appliances.
Available in multiple button styles, backlight colors, and custom engraving, Horizon keypads offer virtually unlimited design possibilities.
The wireless Horizon EX wall-box controllers feature matching dimmers and keypads and have no minimum load requirement.
For enhanced readability under any lighting conditions, color backlighting illuminates high-quality custom laser-engraved text on the buttons. When a button is pressed, it can glow up to two to three times brighter than the inactive buttons, according to Crestron.
U.S. pricing for Horizon products is as follows: keypads $300; dimmers $320; outlets $50; and keystones $40.
The company notes styles on the products include single, side-to-side rocker, small up-down rocker and large up-down rocker options.
Crestron adds that integrators can combine the highly configurable Horizon keypads up to four across, side-by-side in a multigang electrical box. All buttons in a multigang arrangement align perfectly to form one contiguous control surface with no separation between them, the company says.
Additionally, Horizon trim pieces are available in one-, two-, three- and four-gang sizes.
Horizon dimmers and keypads come in black, white or almond (faceplates sold separately) and integrators can use Crestron's Designer Configurator tool to build layouts for Horizon devices in minutes.
Related Content: Crestron Adds Smaller-Footprint MC4-R Processor to Crestron Home
Product Info:
Product Name:
Horizon Line
Manufacturer:
Crestron
MSRP:
$40 - $320