Barco
Bragi Cinemascope Projector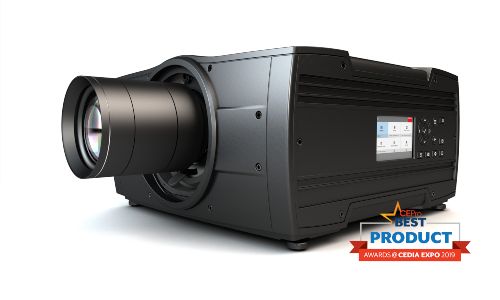 Barco has officially announced its new Bragi Cinemascope projector.
According to the company, the Bragi Cinemascope produces a stunning, wide and extremely consistent color gamut and a rich, vibrant color rendition. Low noise, with up to 50,000-hour life expectancy, 9 lens options and plenty of installation flexibility.
Bragi CS is designed to deliver a high-quality image for smaller dedicated home cinema rooms. The product is built on the Barco Pulse software platform, which allows for easy installation, no scaling artifacts and full freedom in architectural integration.
"Pulse" electronics have been designed to process 4K with HDMI 2.0a and HDCP 2.2 and the optical engine is utilizing a 0.9-inch DMD DLP chipset, delivering 5120 x 2,160 pixels on screen. Bragi also features HDR, motorized lenses and auto aspect detection between 16:9 and CinemaScope.
Featuring the comapny's RealColor processing, Barco says Bragi enables simple and accurate calibration to any desired white point or greyscale.
The Barco Bragi Cinemascope recently won a CE Pro BEST Product Award, presented during CEDIA Expo 2019. View our exclusive video below:
Product Info:
Manufacturer:
Barco