Bosch
18V FlexiClick 5-In-1 Drill/Driver System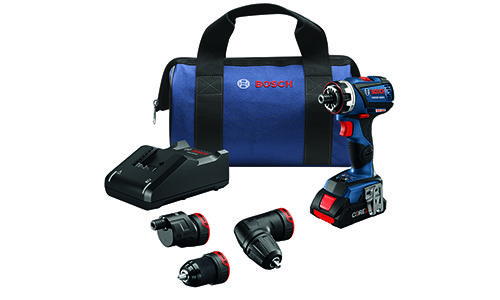 Providing a variety of tradesman with a new drill solution, Bosch has introduced its new 18V FlexiClick 5-In-1 Drill/Driver System.
Bosch says that its new 18V FlexiClick 5-In-1 Drill/Driver System is designed for professionals that require high-torque tools with a drill that offers connected options.
The foundation of the FlexiClick drive is a 1/4-inch hex bit holder and quick release. The system features four attachments: Three that are bundled with the kit and a fourth attachment that is sold separately.
The fourth attachment is an SDS-plus rotary hammer that allows users to drill in concrete and other similar materials.
Other features the drill package offers include Bluetooth connectivity to allow users to wirelessly connect to Bosch's companion app (Toolbox) when used with the optional Bosch GCY30-4 Connectivity Tool Module.
Additionally, the drill package also provides Bosch's Kickback Control that limits tool rotation by shutting down the motor when it detects sudden movement. Bosch explains this technology minimizes risks during situations where the drill might bind up.
Bosch also notes the FlexiClick Drill/Driver Kit's right-angle chuck and offset angle attachments rotate in as many as 16 different positions using one hand without the need to remove attachments from the tool.
More news from CE Pro: CE Pro 2020 Quest for Quality Awards Winners Announced
Product Info:
Product Name:
18V FlexiClick 5-In-1 Drill/Driver System
Manufacturer:
Bosch