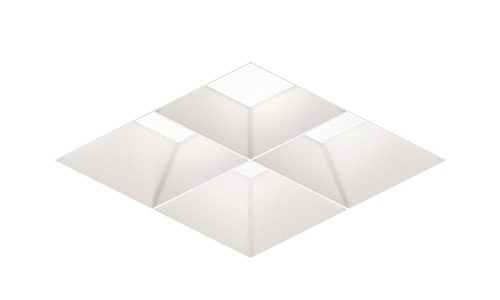 With the lighting category exploding in popularity, manufacturers such as USAI Lighting are acting quickly to fulfill this increased demand through new solutions like its new BevelLED Cross Baffle product.
USAI Lighting says that its new BevelLED Cross Baffle builds upon the features and performance of its BevelLED Mini product.
Explaining the capabilities of the product, USAI Lighting says the new product is designed to softly diffuse lighting and reduce on-surface glare.
Some of the features the BevelLED Cross Baffle offer when compared to the Mini product include more color and dimming options.
The new Cross Baffle product also provides a geometric decorative element to a room's ceiling to bring an added level of style in addition to its functional capabilities.
USAI offers the BevelLED Cross Baffle in trim, trimless, millwork, 10-inch and 12-inch cylinder versions.
The company adds that similar designs is often used in offices and retail spaces where glare is often an issue. Additionally to provide added installation flexibility, the product is also damp- and wet-location rated to support its installation in bathroom and shower locations in residential and commercial fitness center environments.
More news from USAI Lighting: CEDIA Expo Virtual Preview: Savant Enlightens on Lighting Opportunities
Product Info:
Product Name:
BevelLED Cross Baffle
Manufacturer:
USAI Lighting