Atlantic Technology
AZURE Series of Architectural Loudspeakers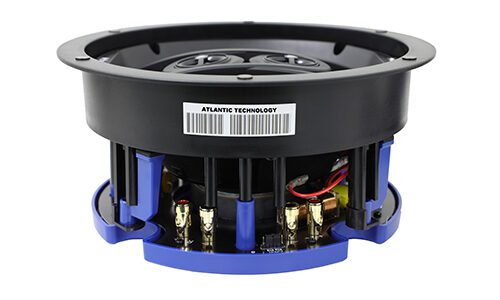 Providing professional integrators with a more advanced alternative to its IC Series, Atlantic Technology has announced its AZURE Series of loudspeakers.
The latest product line from Atlantic Technology offers a choice of five models that includes three 6.5-inch speakers and a pair of 8-inch two-way loudspeakers.
Atlantic Technology explains the AZURE Series of loudspeakers incorporate lightweight, low-resonance formed fiberglass cones, which are the same drivers used in its flagship 8600 and AT-3 H-PAS floorstanding loudspeakers. These drivers also employ high-temperature voice coils, along with butyl surrounds, and Atlantic Technology emphasizes these drivers are housed in non-resonant enclosures with horn-shaped profiles that are said to deliver wide, uniform midrange frequencies.
The AZURE Series of architectural speakers also include the company's coated-silk dome Low Resonance Tweeter (LRT).
According to the Massachusetts-based manufacturer, it uses this tweeter in several of its products, and the tweeter utilizes ferrofluid cooling, along with Neodymium magnets that support the use of lower crossover points.
Atlantic Technology notes the speakers also use second-order crossovers, and they offer resettable polyswitch protection circuits.
Supporting dealers, the tweeters are mounted on a bridge that's designed to reduce interaction with the speakers' woofers, and this alignment provides 30-degrees of orbital pivoting. Here's a rundown of the five AZURE models:
AZ600 6.5-inch model
AZ610 6.5-inch model
AZ620 6.5-inch model with dual voice-coil/dual tweeter
AZ810 8-inch model
AZ820 8-inch model with dual voice-coil/dual tweeter
More news from Atlantic Technology: Atlantic Technology 8600eC Center-Channel Speaker
Product Info:
Product Name:
AZURE Series of Loudspeakers
Manufacturer:
Atlantic Technology
MSRP:
$300 to $650