AVProEdge
ConferX AC-CX84-AUHD 8×4 Matrix Switcher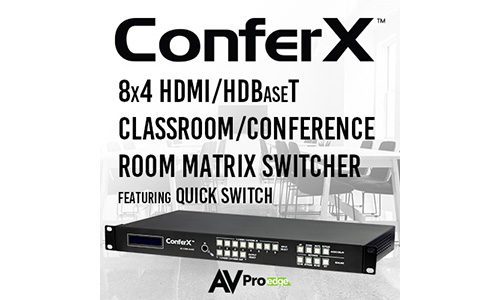 AVPro Edge has added to its ConferX line of products through the launch of the new AC-CX84-AUHD 8×4 matrix switcher.
The Sioux Falls, S.D.-based company says that its latest product is engineered to meet the demands of commercial installations and it is backed by a 10-year warranty.
AVPro Edge explains the AC-CX84-AUHD is an eight input, four output HDMI/HDBaseT matrix switcher that includes its Quick Switch technology. The company states that through its Quick Switch technology the AC-CX84-AUHD is capable of switching a 4K 30Hz signal in under three seconds, and a 1080p in under two seconds.
According to the Midwestern-based company, the 4K matrix switcher can display any of its eight inputs simultaneously through the HDBaseT and HDMI outputs. All four of the AC-CX84-AUHD's outputs are completely independent of one another to allow users to show four sources at the same time, and AVPro Edge emphasizes the switcher works seamlessly with other products from the ConferX product line.
AVPro Edge adds that some of the applications in which integrators can deploy the matrix switcher include education and corporate spaces such as boardrooms and huddle spaces.
More news from AV Pro Edge: SF Marketing Distributes AVPro Edge in Canada
Product Info:
Product Name:
ConferX AC-CX84-AUHD 8x4 Matrix Switcher
Manufacturer:
AVProEdge