Aurora IPX-UC1 Unified Communications IP Streaming Device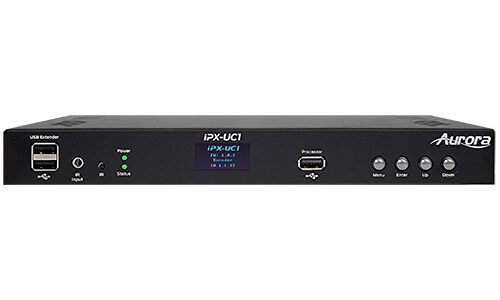 Recently, Aurora Multimedia announced several new products that included its new IPX-UC1 Unified Communications IP Streaming Transceiver.
Aurora Multimedia says that its new transceiver is capable of simultaneously encoding and decoding over a single cable without any latency and compression. The IPX-UC1 is capable of streaming 1G, 10G and 10/100 at the same time in both directions, and it is compatible with codecs such as H.264, H.265 and NDI.
Inside the transceiver the company employs a Pentium class processor with 1TB SSD to help the device support Zoom, Teams, Web Ex and other unified communications (UC) platforms.
According to the company, the IPX-UC1's internal processing also enables the transceiver to support optional Wi-Fi, which Aurora says will be a future update for BYOD (bring your own device) applications such as connectivity to laptops and smart devices.
The unit's input card slots offers three choices depending on the application. In addition, the SDVoE output and processor output can be sent to either of the product's two external HDMI outputs or to the SDVoE and Processor inputs.
Aurora adds that audio, video, data and control can also be securely sent to a single or multiple IPX-UC1s using standard, off-the-shelf 10G and 1G Ethernet switches.
More news from CE Pro: CE Pro Podcast #80: NAD's New Compact, Upgradeable Models Make Audio Amplification Easy
Product Info:
Product Name:
IPX-UC1 Unified Communications IP streaming transceiver