CE Pro Podcast #80: NAD's New Compact, Upgradeable Models Make Audio Amplification Easy
Modular Design Construction (MDC) with streaming, Dirac highlight versatile NAD Electronics latest C 399 Hybrid Digital Amplifier & C 700 BluOS Streaming Amplifier.
Listen to this podcast using the embedded player below.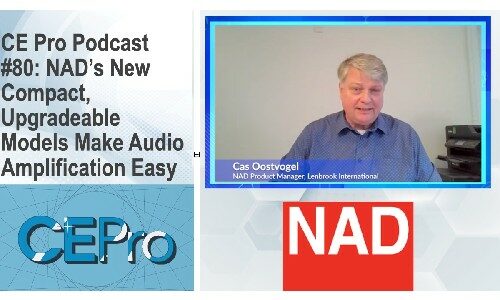 You can argue that the term "audiophile quality" gets thrown around in an overused fashion in recent years, so much so that consumers and integrators might not even really know what it refers to anymore.
One audio component that's been traditionally snubbed by the high-end crowd, though, is Class D amplification, and while its early days might not have been comparable in technology to powerful "hi-fi" amplifiers it's made big strides thanks to companies such as Lenbrook and its NAD Electronics brand.
Of course, NAD Electronics has long been at the forefront of amplification and processing in the audio world and custom integration sectors, with its name commonplace among hi-fi dealers since the early 1970s. In this week's episode of the CE Pro Podcast, CE Pro editor Jason Knott talks with Cas Oostvogel, EU brand manager, Lenbrook, about some of the company's latest product introductions and amplification as well as other technologies, and how they extend NAD's heritage with integrators and audiophile customers.
Oostvogel starts by previewing an impending product release, the C 399 Hybrid Digital Amplifier, which he says is an amp "in the old NAD style, if you like, but behind that front panel there's a lot of technology going on."
He recollects how the audiophile community reacted to – "vilified" – Class D for its sound "10-15 years ago" when admittedly Oostvogel says the so-called digital amplification could sound poor. But, he adds, "NAD embraced Class D once it became obvious that this was the way forward performance wise, and also for the environment it's 90% efficient."
NAD Electronics MDC Topology Adds Streaming, Dirac Abilities
Oostvogel explains that the forthcoming NAD C 399 Hybrid Digital Amplifier will deliver up to 180 watts per channel. "That's 'NAD watts' – so it's both channels at the same time … with very low distortion, so what it can do under any circumstance," he explains.
"But that's all well and good; in the end, what does it sound like? Don't believe me when I say it's great, you just have to check it out for yourself – and please hook up the very best speakers you can, because it really is an 'audiophile' amplifier in that sense but with none of the prima donna habits an audiophile amp can have. This will drive anything without any issues."
Plus, the NAD C 399 incorporates NAD's MDC (modular design construction), which allows amps to be modified with modules for various purposes, and the second-generation MDC2 included with the C 399 enables even more functionalities. Simultaneous to the C 399 release, NAD will release the MDC2 BluOS streaming module to add the company's lauded streaming platform and Dirac room correction support.
"So for a straightforward, conventional amplifier, you can take it immediately a couple of notches up with streaming and room correction," Oostvogel says.
Listen to Oostvogel discuss NAD Electronics' C 700 BluOS Streaming Amplifier, and all its vast capabilities, as well as other perspectives on today's high-performance audio sector by downloading or playing the entire podcast above. Find past episodes of the CE Pro Podcast by subscribing to the CE Pro YouTube channel or our Apple and Spotify podcast feeds.