ATEN
CN9600 KVM over IP Switch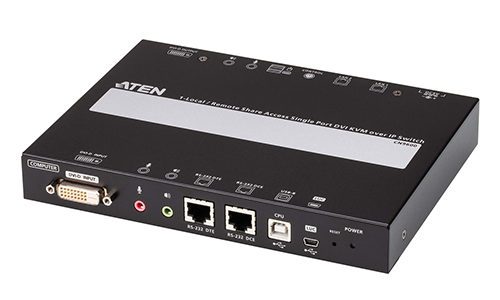 Helping workers to be more productive when at home, the new ATEN CN9600 KVM over IP switch supports a variety of installation scenarios.
ATEN says that its new KVM over IP switch provides users with a 1-local/remote share access single port DVI KVM over IP solution that supports remote access to digital, video, audio and virtual media through the remote control of a PC or workstation.
The company explains that with the integration of the CN9600 KVM over IP switch, workers can work from home without having to implement complicated setups that include external software.
According to ATEN, all users need to do to use the CN9600 is connect a laptop to the Laptop USB Console (LUC) port to access any computer that is connected to the switch. This setup eliminates the need for additional monitors, keyboards and mouses.
In addition, the KVM over IP switch's virtual media function allows users to perform diagnostic testing, file transfers and the option of performing operating system (OS)/application updates from a remote console.
Moreover, system administrators/operations can monitor and access servers from remote locations using a standard web browser or Windows and Java-based application programs.
More news related to small business and work from home technologies: Small Businesses Zoom into Collaboration Market
Product Info:
Product Name:
CN9600 KVM over IP Switch
Manufacturer:
ATEN