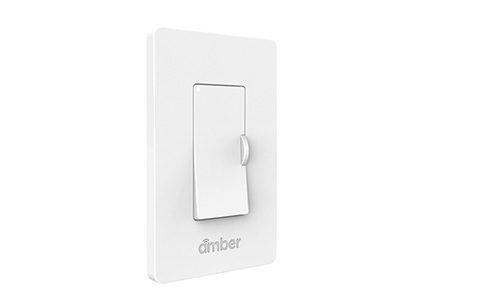 Adding to its product line of circuit breakers, smart outlets and smart switches, Amber Solutions has introduced its Two-Wire Dimmer.
Amber Solutions says that its new, solid-state dimmer works without a neutral wire, and it is compatible with most types of LED bulbs.
According to the Dublin, Calif.-based manufacturer, the 3/4-inch deep Two-Wire Dimmer provides homeowners with flicker-free performance, and it delivers smooth dimming from zero percent to full power.
The company states the Two-Wire Dimmer combines its AC/DC Enable and AC Switch technologies for digital control to enable the dimmer to intelligently monitor and control the flow of electricity.
Amber Solutions points out that its technologies provide more accurate control of electricity to produce the lowest rate of heat dissipation and wasted energy. The dimmer's 100% digital surge protection is also non-sacrificial to preserve the long-term reliability of the product.
Other design elements included in the dimmer include the elimination of TRIACs, which have been traditionally used in two-way current control. Amber Solutions replaced TRIACs with MOSFETs, which it says outperforms traditional technologies.
In addition, Amber Solutions notes the Two-Wire Dimmer can handle up to 1,000 watts of current, and the product is input voltage independent.
More news from Amber Solutions: Are Smart Electrical Outlets, Switches & Circuit Breakers in Your Future?
Product Info:
Product Name:
Two-Wire Dimmer
Manufacturer:
Amber Solutions