CE Pro Podcast #78: Experts Outline HDMI 2.1, CEDIA/CTA-RP28 Design Best Practices
Joel Silver, Jason Dustal and Robert Zohn discuss the HDMI 2.1 format, along with the CEDIA/CTA-RP28 Best Practices standard.
Listen to this podcast using the embedded player below.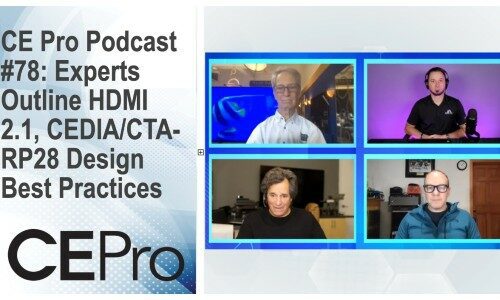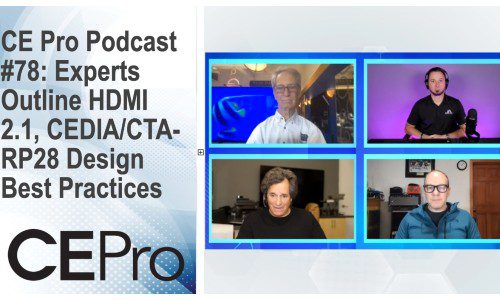 Fresh off the CEDIA Expo 2021 in Indianapolis, the custom electronics industry is set to close out the year. And as the calendar turns, the Custom Electronic Design and Integration Association (CEDIA) and the Consumer Technology Association (CTA) have teamed up to offer system integrators their newly finalized CEDIA/CTA-RP28 HDMI System Design and Verification Recommended Practice guide, which offers important guidelines for any system deploying HDMI 2.1. 
Authored by the CEDIA/CTA R10 Residential Systems Committee, working group three (WG3), which includes group chair Joel Silver, CEO and lead developer, Imaging Science Foundation, along with co-chair Jason Dustal, AV Pro Global Holdings; sub-committee members Matt Murray, AV Pro Global Holdings, Christian Wolff, Dolby, Roger Dressler, RWD Consulting, Rob Sabin, Projector Central, Kevin Iselli, Crestron Plano, and staff contributors David Meyer of CEDIA and Walt Zerbe of CEDIA, the guide is designed to provide the market with all of the necessary information to design, install and troubleshoot HDMI-based systems. 
Taking some time to explain the guide Silver, Dustal and Value Electronics president and founder Robert Zohn, recently joined the CE Pro Podcast to outline the importance of the HDMI 2.1 standard, and why integrators need to familiarize themselves with the protocol. 
CEDIA/CTA-RP28 HDMI 2.1 Best Practices Guide Summarized
To say the CEDIA/CTA-RP28 guide is comprehensive would be an understatement. The guide, which is available here, is a 69-page document that details commonly used glossary terms, along with system devices, connectivity, functions, HDMI system bandwidth, verification procedures, and troubleshooting.
Providing an example of just how much work went into the development of the guide, Silver recalled that when the group was putting the glossary together an IEEE engineer kept using a term the committee was unfamiliar with, but after questioning the IEEE Engineer explained to Silver that people would see this term so it was important the term be used in the guide.
"So, we ended up canceling the glossary because someone would tell us well, I've got to assert and de-assert the system, and I said, 'excuse me assert, de-assert, what are you talking about … they go connect and disconnect,' I said why don't you call it connect and disconnect," says Silver.
"They said well the engineering term isn't your readers are going to see this from time to time on an HDMI Doc I said, 'you've got your own language—that's right it's a standards language for HDMI, well Our job is to translate that to someone in the field."
Getting a dealer's perspective on the importance of HDMI 2.1 and the CEDIA/CTA-RP28 HDMI System Design and Verification Recommended Practice guide, Zohn says the document helps integrators to install reliable systems that perform equally well with all of the various formats in use in the home AV market.
"And then you'll have a trouble-free system so that's one of the reasons, the other [reason] is you want to see the full dynamic tonal range, you want to see 100% of the color volume," comments Zohn.
"You're not going to see that unless we have a fully compliant system so for you to have all the emotion that these filmmakers put into the content for you to see their intent in your home."
Later in the conversation the topic of fiber optic cabling and the benefits it provides as a future proofing infrastructure solution came up, including its ability to support next-generation formats, including 4K at 120Hz.
Silver pointed out that sports will benefit the most from 4K at 120Hz and higher refresh rates such as 120Hz are where homeowners and AV enthusiasts will see a noticeably better picture. Through these rapidly occurring developments in the home market, Silver says that home theater has surpassed the performance of commercial cinemas.
Next week, part two of this conversation will recap the recently completed Value Electronics 4K and 8K TV Shootout Evaluation.