CE Pro Podcast #62: Optimizing HDMI 2.1 Features & System Installations
HDMI Licensing president & CEO Rob Tobias discusses great HDMI 2.1 gaming features, 4K & 8K display enhancements, cable testing & certification and more.
Listen to this podcast using the embedded player below, or use the link to download (right-click to save) or to listen using your system's media player. On mobile devices simply click the Download this Audio File link below and your devices player will automatically play the file.
Listen to this podcast right now.
Format: mp3 • Length: 21:07 • Filesize: 40554711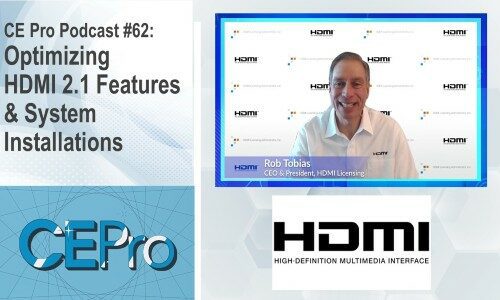 This week on the CE Pro Podcast we're getting integrators up to speed – actually ultra high speed and premium high speed, because we are talking about HDMI.
Rob Tobias, CEO and president of HDMI Licensing, joined for this episode to discuss the latest HDMI 2.1 news and products, how integrators can optimize gaming systems, identifying certified cables and much more.
Integrators have had plenty of HDMI 2.1-related information to stay on top of with new gaming consoles released at the end of 2020 and the annual slew of new 4K and 8K displays previewed at this year's Digital CES show in January.
"CTA pivoted, got meeting rooms going, etc., and there were a ton of product announcements," Tobias says of this year's virtual staging of the annual event, which is often showcased by the dazzling display manufacturer booths.
"A lot of great new TVs have come to market," he adds. "This year, 8K continued to be the flagship models for all the TV brands … and they all now come with one or more HDMI 2.1 port, so they're ready to go and future-proofed to connect with the 8K sources that are starting to emerge around the world."
HDMI 2.1 Features Ideal for Gaming Installations
Meanwhile, now that 4K disc/streaming/gaming content and 4K displays are maturing, Tobias notes that CE pros can maximize system installations because the HDMI 2.1 ecosystem offers more fully featured capabilities now being deployed more widespread.
"More important, and more headline grabbing, are all the 4K TVs that have added the gaming features," he states. "We'll talk a lot about gaming here on the podcast, and I think that's one of the big drivers. We're seeing the TVs offering 4K with 120 Hz refresh rate panels, so it's great they're adding motion smoothing and things like that."
HDMI 2.1 features such as Auto Low Latency Mode (ALLM), Variable Refresh Rate (VRR) and Quick Frame Transport (QFT) are key in keeping today's fast-paced and highly detailed games optimized for players on their big 4K displays.
As Tobias notes, it's important for installers to know which feature sets of HDMI 2.1 are supported, and how to understand the labeling on HDMI packaging to ensure the proper cables are being spec'd.
Along with addressing the gaming sector, Tobias covers device/cable testing and certification; differences between Ultra High Speed and Premium High Speed cabling; HDMI Licensing's efforts to protect against counterfeit cables; powering active optical cables; and more.
Hear much more from Tobias by watching or listening to the podcast above. Find past episodes of the CE Pro Podcast by subscribing to the CE Pro YouTube channel or our Apple and Spotify podcast feeds.