CE Pro Podcast #58: Upselling a Six-Figure Outdoor Lighting & Audio Project with Coastal Source
Integrated AV in Oklahoma had a job go from 15 fixtures to 200, plus $100K+ in speakers/subwoofers, aided by powerful Coastal Source demo.
Listen to this podcast using the embedded player below, or use the link to download (right-click to save) or to listen using your system's media player. On mobile devices simply click the Download this Audio File link below and your devices player will automatically play the file.
Listen to this podcast right now.
Format: mp3 • Length: 37:03 • Filesize: 71148276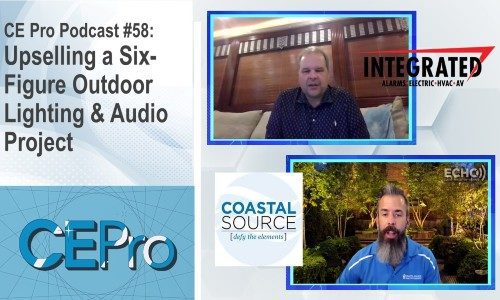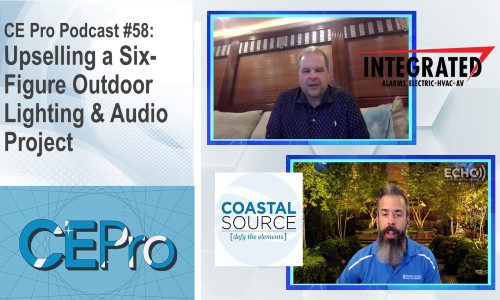 Are you selling and installing outdoor lighting? Do your outdoor speakers sell themselves when people walk by them?
In this week's episode of the CE Pro Podcast, Coastal Source technical specialist Shay Brummer and principal Shawn Romberg of Integrated AV in Oklahoma tell us about how an outdoor lighting request turned into a nearly $200K exterior lighting and audio project – Integrated AV's first one using Coastal Source.
Brummer and Romberg already had an industry relationship with Brummer (well, as "friendly competitors") bringing integration experience to his role with Moorestown, N.J.-based Coastal Source. From his base in Edmond, Okla., the same Oklahoma City suburb served by Integrated AV, it was an easy project for Brummer to provide a partnership on and the two outline how this recently completed resimercial job came about.
The project, for a renowned local banquet venue, the Aspen Ranch, which is on a sprawling 160-acre horse farm, was really like a huge residential project with multiple buildings and the large property to be covered. The owner wanted exterior lights to help in particular with one really dark wall that needed to be better lit, and an electrician friend of Romberg's was having trouble finding a proper solution and Romberg, having recently gotten into the outdoor lighting category thanks to Coastal Source, wound up with his first such job.
Outdoor Lighting Expands; Outdoor Speakers Impress
When Romberg and Brummer visited the site things just bloomed from there. Brummer travels around frequently for Coastal Source helping integrators perform demos or deliver other assistance on projects driving his van that's loaded with demo product. Exterior lighting can dazzle customers in demos as their landscaping and home twinkle in the twilight, and outdoor audio demos can be just as effective, as evident here.
"We set up all the lighting kits and put them all up for [the customer] and then we put the speakers out, because we just decided to get everything out," Romberg says of the demo, in which various Coastal Source lighting fixtures were on display as well as the company's 12.0 Line Source Bollard speakers. Even though the owner had no interest in including outdoor audio on the project.
"We felt we should put [the speakers] out anyway because it just kind of completes the circle," Romberg notes. "It makes you like the lighting even more when you have some cool music playing while you're enjoying it."
Well, as the Coastal Source flagship speakers served up some Eagles, people who were inside – including the owner's wife and the project's designer – were drawn outside. The complete package of lighting and audio on display spoke to them, and they began selecting all the fixtures they wanted throughout the property as well as a rockin' sound system to complement things.
"They were smitten right away [with the sound], they were in love," Romberg says. As it turned out, Integrated AV made more money on the audio portion than the lighting portion.
Here much more about this project from the design and installation stand point, including how Coastal Source's in-house services can assist dealers like Romberg who are new to the category, by playing the CE Pro Podcast video or audio above.
Find past episodes of the CE Pro Podcast by subscribing to the CE Pro YouTube channel or our Apple and Spotify podcast feeds.