CE Pro Podcast #46: Coastal Source's Outlook for Outdoor Audio & Lighting Market
Coastal Source's Franco D'Ascanio describes how integrators can achieve an incredible 95% close rate on outdoor audio and lighting sales.
Listen to this podcast using the embedded player below, or use the link to download (right-click to save) or to listen using your system's media player. On mobile devices simply click the Download this Audio File link below and your devices player will automatically play the file.
Listen to this podcast right now.
Format: mp3 • Length: 17:11 • Filesize: 32982931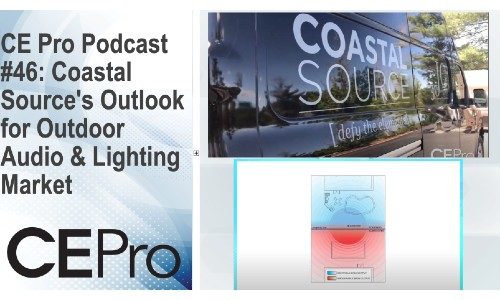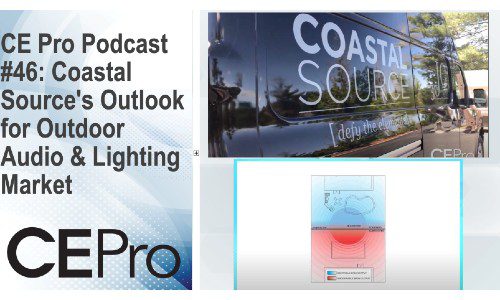 2020 was a banner year for outdoor audio and lighting installs, with 93% of integrators reporting having installed at least one outdoor project during the year. While this boom was largely influenced by the COVID-19 pandemic, it appears as though 2021 will continue the trend.
To find out how the market is looking this year, CE Pro sat down with Franco D'Ascanio, president of Coastal Source, to gain additional insights into what could be a huge year for CE pros, and find out what integrators could be doing differently when demoing these products.
From Coastal Source's point of view, since its systems can live completely outside, dealers were able to get work done outside and not have to enter residences while the virus was at its peak down in Florida.
"[The outlook] is very strong. 2020 was exceptional for us; we met and exceeded our goals and we see that continuing. People are wanting to move out of congested areas and into sparse areas, so we're seeing a lot of that movement but we're also seeing people who just want to upgrade what they have," says D'Ascanio.
So how do integrators continue to break through and increase outdoor sales in 2021? One thing Coastal Source has done is make its systems fairly easy to demo on location, meaning an installer can go directly to the customer's home, enter their yard, and have a lighting demo set up in 15 to 20 minutes versus having to ask customers to visit a showroom during a pandemic.
This way of selling to customers also helps them experience the products at home, which D'Ascanio believes creates an emotional connection with technology that a sterile showroom environment cannot match. "Integrators need to keep an open mind… let your customers listen to everything, including the really good stuff," adds D'Ascanio. "I believe our close rate on lighting and audio demos is in excess of 95% across the nation."
In terms of lighting demos and installs, D'Ascanio says integrators need to take advantage of Coastal Source's design services to help create bespoke solutions for each client. Many people have not experienced really good audio and outdoor lighting, so having design services can help integrators make the most of each install without spending tons of extra time on the project.
"To many people, really good outdoor audio and lighting, they haven't experienced it before. It is a true enhancement [where] if you demo it and do the right things, what they are willing to spend on that and the bang-for-buck they get from that can be very high," says D'Ascanio.
Learn more by watching or listening to the CE Pro Podcast above. Subscribe to the CE Pro YouTube channel to find more episodes of the CE Pro Podcast.