CE Pro Podcast #12: Clara Shades Shoots for Mid-Market Sweet Spot
Taking advantage of its integrator perspective, Canadian firm HomeSync started Clara Shades to seize more opportunities with builders, developers and first-time homebuyers.
Listen to this podcast using the embedded player below, or use the link to download (right-click to save) or to listen using your system's media player. On mobile devices simply click the Download this Audio File link below and your devices player will automatically play the file.
Listen to this podcast right now.
Format: mp3 • Length: 29:38 • Filesize: 28565827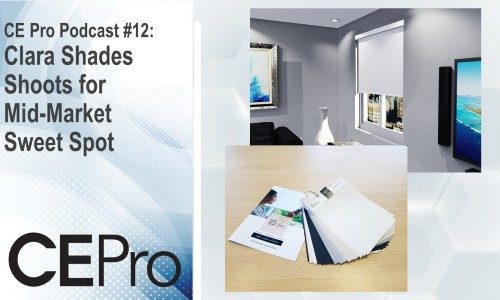 Like many integrators, Montreal-based HomeSync made its mark serving the luxury home market with fairly large-scale automation projects. As people started moving into modern townhouses and high-rise condos, HomeSync synced up with developers to add MDU buyers.
But HomeSync found it was leaving money on the table in the more mid-market developments. It was prewiring for motorized shades but not selling the shades themselves to builders and developers as it could on, say, a higher-end custom job for spec'ing Crestron lighting and shade controls.
The integrator was missing out on a potential cash cow opportunity, and the idea to launch a motorized shades manufacturing arm, Clara Shades, was hatched. Now it's a business offering integration-friendly open-roll and enclosed indoor shades, plus outdoor architectural shades coming soon, and president Joseph Kade joined the CE Pro Podcast to talk about how the company caters its offerings to dealers.
Motorized Shades for Foot in the Door with Developers
"When you're looking at the housing market, there's a lot of urbanization and a lot of people are moving from homes to condominiums," says president Joseph Kade, whose home market of Montreal has been case in point of this trend. "All these condominiums have window walls and it was kind of a no-brainer offering shades – it was key for us to grow our business.
"Shades is a way for us to get a foot in the door. It's accelerated not only [the developer/builder market] side of the business but the automation side," he says, noting that the creation of a motorized shades business has not taken away from integration projects and services.
Indeed, HomeSync ranks among the most successful Control4 dealers in Canada and biggest Crestron dealers in Quebec. The Clara Shades offerings widen the net for the target shade customer, and Clara Shades is seeking to sign on other integrators to help them land more MDU, "first-time homebuyer," and mid-market shade jobs.
"We've worked really hard over the last five years to build a process for the developers; we saw an opportunity to the point where since we're selling and distributing [shades], why not manufacture them – offering a product that is turnkey for that market," Kade explains.
"We have a recipe in place and we want to pass along that recipe to the dealer network to make sure they have access to these Clara Shades today. And if there's a dealer out there that has a tower project, a new development going on, and he wants to do shades he can give us a call and we'll be happy to help out."
Kade also notes that in Canada next year sales of corded shade solutions will be going away as the completion of a safety measure transition in the country, and at the same time the cost of going from manual to motorized is becoming more attractive to customers.
Dealer Portal Simplifies Selection Process
Taking cues from lessons as an integrator, Kade notes that as a manufacturer Clara Shades can't be a bottleneck in the system design and installation process – "You don't want to be the guy that delivers the products five weeks late, that every time I want you to do a quote I have to send an email and then wait 48 hours to get an answer – or some questions."
The company needed to provide the same assurances to its would-be integrator partners (learn about becoming a Clara Shades reseller here) that as an integrator it ordinarily provides to its customers.
"So we not only wanted to make sure we introduced a good product, but a very reliable process," he says. It's why Clara Shades built a dealer portal to make a super-efficient shade project pricing process.
"You could literally sit there and in five seconds you could quote your first shade and then minutes later you've quoted a 10-shade project. You're able to manage it in the portal and show it to clients."
Listen to the entire conversation with Clara Shades & HomeSync's Joseph Kade above, and find other CE Pro Podcasts on our YouTube channel.