CE Pro Podcast #79: Display Kings from Value Electronics' TVs & UST Projection Shootout
Joel Silver, Jason Dustal and Robert Zohn enthusiastically embrace the home video market and the impact of HDMI 2.1.
Listen to this podcast using the embedded player below.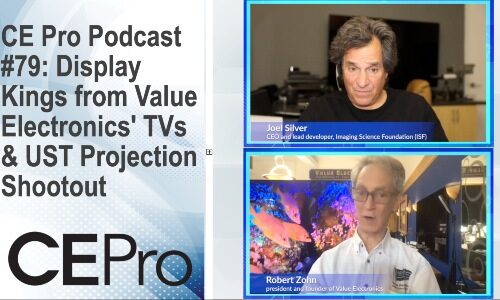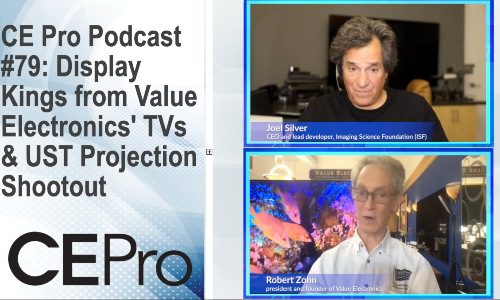 In part one of CE Pro's podcast with Joel Silver, CEO and lead developer, Imaging Science Foundation (ISF), Jason Dustal of Murideo, and Robert Zohn, president and founder of Value Electronics, the trio of video experts discussed HDMI 2.1 and the CEDIA/CTA-RP28 best practices guide.
Following up with part 2 of their discussion, Silver, Dustal and Zohn took a look at the recently completed Value Electronics' 2021 4K and 8K TV Shootout Evaluation. This annual event produced by the N.Y state-based retail and installation company owned by Zohn brings together a panel of expert calibrators to evaluate the year's best video products.
As part of the Value Electronics' 2021 4K and 8K TV Shootout Evaluation Zohn and his team tests televisions from the industry's top brands, including Sony, LG, and Samsung. Adding the increasingly hot category of ultra-short throw (UST) projectors, the 2021 4K and 8K TV Shootout Evaluation just named Hisense's L9G as the "King of UST."
Zohn, Dustal and Silver confessed that up until today they felt previous generations of UST products didn't perform well enough for enthusiasts, but today's products perform extremely well.
Shortly after praising the newest generation of UST products the conversation transitioned into the current state of the home video market, including HDMI 2.1 and the formats that it provides such as 4K at 120Hz, along with dynamic HDR formats like Dolby Vision, and expanded color gamuts like DCI-P3. During the conversation Silver reiterated the consumer industry is currently outperforming commercial cinemas. 
"We are better than the movie theater," he states.
"I give the [consumer] industry a 10+ [rating]."
2021 4K & 8K Evaluation and Shootout Talk Transitions to Demo Content Recommendations
Closing out the podcast Silver, Dustal and Zohn wanted to talk about some home videos they are currently enjoying. As a result of the home video talk the experts offered these choices for integrators and home AV enthusiasts to check out.
Going forward, as a new recurring feature on CE Pro each time Silver, Dustal and Zohn appear on the podcast they will provide AV system demo recommendations. Find past episodes of the CE Pro Podcast by subscribing to the CE Pro YouTube channel or our Apple and Spotify podcast feeds.