CE Pro Podcast #67: Becoming a Living-in-Place Expert for Clients
A detailed discussion about the living in place market and how to obtain a Home Accessibility Trade Specialist certification.
Listen to this podcast using the embedded player below, or use the link to download (right-click to save) or to listen using your system's media player. On mobile devices simply click the Download this Audio File link below and your devices player will automatically play the file.
Listen to this podcast right now.
Format: mp3 • Length: 35:25 • Filesize: 67993646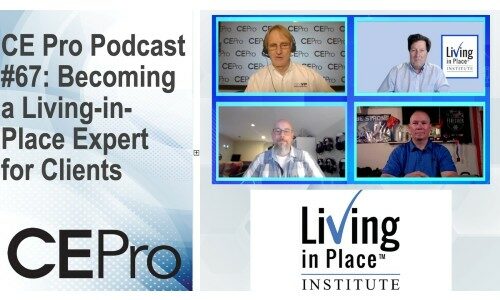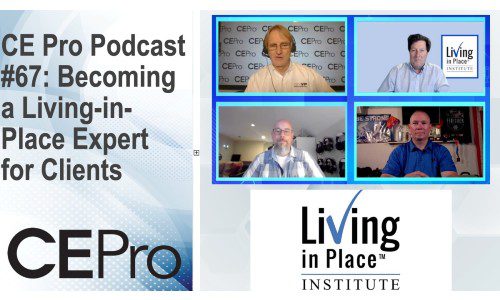 Aging in place and wellness solutions are slowly becoming more prevalent in the industry, and they are certainly going to continue to grow as the population continues to age. Indeed, although the focus on these areas has been accelerated by the COVID-19 pandemic, both markets really have struggled to take hold among integrators' every-day clientele. Why?
It could be a variety of factors. For one, the terminology is a bit intimidating. That's one reason the "aging-in-place" moniker has now been replaced with "living in place." The term certainly is friendlier with clients by not calling out the face that we are all getting older.
Another reason for the slow adoption could be that integrators are still not fully prepared to effectively discuss and deploy living-in-place solutions.
That's where the Living in Place Institute's new Home Accessibility Trade Specialist certification, or HATS for short, comes in. This certification is aimed at helping trade professionals like integrators, plumbers, electricians, and carpenters differentiate themselves as specialists in the wellness and aging-in-place market.
"The Living In Place Institute (LIPI) was founded to be able to help people of all ages to be able to live with independence and dignity in their home," says Louis Delaware, co-founder. "We don't necessarily just deal with seniors. We deal with children that may be on the spectrum or have special needs, as well as youngsters or teenagers young adults that do something, possibly stupid on a skateboard, skis or bicycle, and then all of a sudden have a broken femur or other injury, and realize their bedroom or bathroom are inaccessible."
The new HATS program coalesces a lot of the information from the LIPI's Certified Living In Place Professional Program and condenses it into an online, on-demand for integrators and other trade professionals.
Integrators Christian Vives, COO at A.B.E. Networks in Rockville, Md., has the HATS certification to help the company pursue creating technology solutions for multi-generational households. A.B.E. Networks has seen a growth in the demand for those solutions, according to Vives, and the ability to design the technology into the home from the outset is an advantage for the company.
Vives says that skillset allows A.B.E. Networks to get in on projects earlier than it might have otherwise. Also, that early intervention enables the company to put in the proper infrastructure necessary to support the technology that will future-proof the home for living in place.
"We can intelligently future proof for different needs and different space utilization so that the house can evolve with the resident. Today it's a playroom, later in life it might be an in-law suite. So the infrastructure is critical and it's a small portion of the overall cost, so getting it right is just good practice."
He says one of the keys is to program systems that initiate the most-effective number of actions with the least amount of effort, whether that be by the push of a button, by motion, on a timer or simply by a control interface.
"The idea is the remove the the minutiae that can be an annoyance when we're young, and can be prohibitive for others," he adds. Vives says that sort of technology can be transformative, especially in an emergency situation.
Ryan Herd, CEO of Caregiver Smart Solutions in Pequannock, N.J.. has developed an entire business around this market.
"I manufactured a system that enables us to take a look and really help and be proactive with our aging loved ones," he says. "We are enabling your loved one to retain their dignity to live at home for as long as possible and to give the adult child caregiver more peace of mind by knowing how they are doing in their environment. Because at the end of the day, when mom or dad close that front door, it's a black hole. We have no idea what's going on, yet we want to give them their independence."
The LIPI HATS program is all on demand and broken up into digestible 30-minute modules with a brief quiz after each section. In total, it takes about 5 hours to complete.
Because it is on demand, dealers can go back to it again and again for refreshers.
Hear more about becoming a Living in Place expert by viewing or listening to the CE Pro Podcast above. Find past episodes of the CE Pro Podcast by subscribing to the CE Pro YouTube channel or our Apple and Spotify podcast feeds.