CE Pro Podcast #50: Springing Forward to CEDIA Expo 2021 in Indianapolis
Jason McGraw of CEDIA Expo owner Emerald and Visit Indy's Morgan Snyder address health & safety protocols, travel plans and other adjustments to anticipate.
Listen to this podcast using the embedded player below.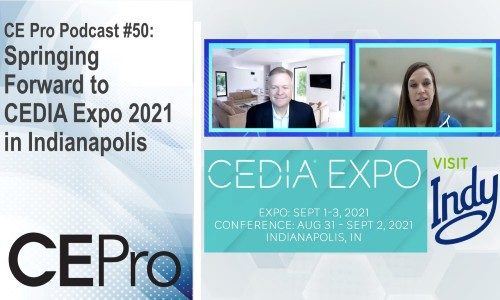 It's hard to believe, but this week's CE Pro Podcast marks the 50th we've produced since we launched the weekly episode series last year. Call it a silver lining of the pandemic that the embracing of Zoom led to the development of this additional piece of content – that you can watch or listen to – featuring voices from the custom industry.
While we're in the mood to celebrate good things that have emerged from a rough 2020, we are already thinking about CEDIA Expo 2021, scheduled to take place in Indianapolis from September 1-3 (conference starting August 31).
Social media is already abuzz with talk of companies going to the show, what will be for most their first in-person tradeshow since the COVID-19 shutdowns began last March. Recent conversations with integrators, manufacturers and distributors in the space have underscored the excitement and pent-up enthusiasm for gathering at the Indiana Convention Center for CEDIA Expo instead of over Zoom.
Naturally, however, there are plenty of questions exhibitors and attendees will continue to have as we approach the opening of registration in early June. So for our special round-number episode, we brought on our own Jason McGraw, group vice president of Emerald overseeing the CEDIA Expo operations, and Morgan Snyder, director of public relations for the Visit Indy tourism bureau, to start answering them.
McGraw, who joined Emerald last fall after a long tenure in the events business on the pro AV side with AVIXA, thinks the industry is bursting at the seams ready to return to an in-person event after last September's successful CEDIA Expo Virtual show.
"All systems are go," he says. "We're very excited about the opportunity to be able to come back together with an in-person event. It'll be two years since our last in-person CEDIA Expo, two long years unfortunately.
"But we're very thrilled to have the opportunity now that things are moving along with the vaccination rollout, the herd immunity, the reduction of cases with COVID – things are pointing in a very positive direction for a successful return and a safe return of in-person events. We're looking forward to it and we're making all plans and preparations to have a great show."
City, Venue Well-Prepared to Stage CEDIA Expo 2021
Elaborating on the health and safety protocols that will be in place at the Indiana Convention Center – which last hosted CEDIA Expo in 2012 – McGraw notes that they are fluid but people can expect to wear masks, not gather in crowds in certain areas, get temperature screenings, find consistent cleaning/disinfection, employ plenty of non-contact interactions (like at the food stands) and more. Click here for a full PDF of what's in place.
Snyder outlines the extensive efforts, expenditures and other measures going on in the state, Indianapolis and the Indiana Convention Center.
"We're doing everything we can, fine-tooth comb, to put on these events successfully and safely," she says. "Last year we quickly went in to implementing $7 million in health and safety features inside the Indiana Convention Center."
The reaction preparations done by the city and its venue for events as things began to open up have made Indianapolis an attractive destination in 2021. The city is hosting NCAA's March Madness Men's Basketball Tournament now, has the Indianapolis 500 on Memorial Day weekend, and has already hosted or has scheduled more than 50 conferences.
"As everyone can say, they travel and tourism industry was one of the hardest hit with the pandemic, but we are also a city where we cannot stop creating. Our conventions are very important to us – we miss CEDIA and we are so excited to have this group back in the city," she says.
Hear more details from Snyder and McGraw by listening or watching the CE Pro Podcast above. Find all of our episodes by subscribing to the the CE Pro YouTube channel.