CE Pro Podcast #33: WiSA Weighs In on Wireless AV Trends
Tony Ostrom, president of the Wireless Speaker & Audio (WiSA) Association, discusses product happenings and why integrators should be excited about wireless AV installs.
Listen to this podcast using the embedded player below.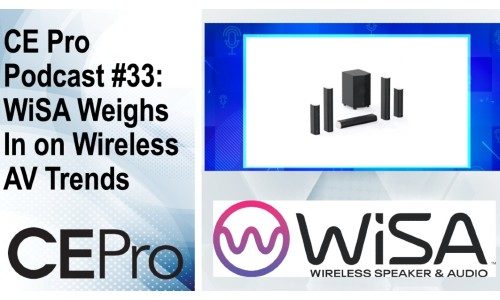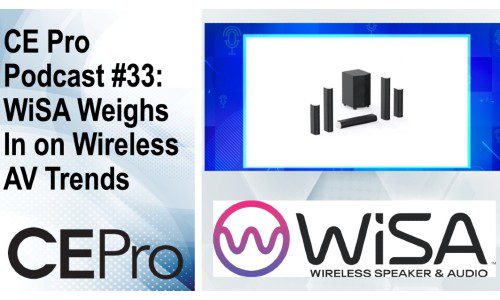 Earlier this year I reviewed the Enclave Audio CineHome II wireless surround-sound system and got first-hand insights into just how remarkably easy it can be to upgrade lousy TV audio to a full 5.1-channel setup. Thanks to its implementation of Wireless Speaker and Audio (WiSA) Association standard technology, the certified wireless system took little time to install and still kept my living room uncluttered from speaker wires.
With that in mind, I chatted with WiSA Association president Tony Ostrom in this week's CE Pro Podcast episode about the latest happenings with the organization and its members, maturing wireless AV market and what's ahead. And with Black Friday and the holiday shopping season coming up, it's a great time for integrators and consumers to consider wireless AV solutions.
"Early on I think a lot of people were joining and kind of testing the waters and learning about the technology," Ostrom says. "It's established to the point now where we're seeing a lot of people join, certify products and launch products in a pretty tight timeframe – which is pretty exciting for us."
The association has been around for about a decade, and benefitted from founding members and other early innovators in the due diligence phase.
Now, Ostrom says, adoption has gotten to where members focus on really building the wireless AV category out with a critical mass of products such as transmitters and things that "speak WiSA on the front end" plus "listeners" or loudspeakers. "Now we can leverage all that and go to the retail and consumer space and say, 'this is now a category, there are a lot of options, it's very simple' and we can tell the whole story," he adds.
The phases of research, innovation and adoption have enabled the organization and its members to be comfortable with the prospects of expansion – more good news for home theater and music fans.
Wireless Surround Sound & Stereo Installation Matures
WiSA wireless AV standards deliver up to 8 channels of wireless audio (even Dolby Atmos configurations), 5.2ms latency, 1 microsecond of synchronization, 24-bit/96kHz audio, and that's with all channels driven or one channel driven, Ostrom notes. That flexibility with the standard has created numerous applications that integrators and customers can enjoy, whether full surround-sound, 2-channel stereo, adding a wireless subwoofers to a wired system and more, as Ostrom points out.
"In Europe we're seeing a lot of 2.0 and 2.1 solutions," he says.
But not only that, there's the upshot of a standardized app-based configuration and device discovery that has made WiSA certified technology even more appealing for integrators and customers.
Product innovation, as Ostrom mentions, has indeed been swift and exciting of late and looking toward the near future.
"There have been some pretty cool new announcements recently. Right now we're working on certifying some new speaker solutions that you'll see announcements for in the next few months from both some stalwart brands and some new guys," Ostrom says.
Meanwhile, recent products of note include LG's 4K CineBeam projector that was the first to be certified WiSA-ready, and the Legend 5 System Audio Silverback speakers that already received award-winning accolades, to name a couple.
Integrators Can Easily Demo WiSA Wireless AV Systems
Not only that, but Ostrom is very stoked about a product that WiSA itself is actually branding called SoundSend, which is being finalized. It looks like a puck and will facilitate wireless signal transmission from a display source to WiSA speakers.
"It's a small product that connects via HDMI ARC or eARC [with an optical backup for older sources], decodes all the way up to Atmos and transmits up to 8 channels to any WiSA-certified speaker," Ostrom explains.
"It will basically open up the category to hundreds of millions of installed smart TVs as well as all the smart TVs – 120 million, 130 million – to be sold this year that can easily with an HDMI connection and plug it into the wall finds all your WiSA speakers and creates surround-sound cinema with literally next to no work for the user except for plugging the speakers in."
And for integrators, Ostrom talks about how the technology can virtually sell itself and boost AV sales, even if prospects can't quite get to a showroom because of pandemic restrictions.
"It's so easy to demo the product in the home because the setup is so fast," he says.
"Even in this circumstance that we're in now while everybody's keeping their distance, maybe they don't want to venture out to a showroom, but you can go in – 10 minutes you've got a demo. You can leave; you know, have them listen to it for a while, and they're listening to it in their own space."
Hear about more benefits for custom integrators and AV enthusiasts by watching or listening to the full CE Pro Podcast above, and get caught up on previous episodes by subscribing to the CE Pro YouTube channel.