CE Pro Podcast #31: Versatility Helps Vanco Set Dealers Up for Resi and Commercial Success
In an interview that took place just prior to the CEDIA Expo Virtual event, Mark Corbin, president of Vanco, discussed HDMI 2.1 and the challenges of doing business in 2020.
Listen to this podcast using the embedded player below.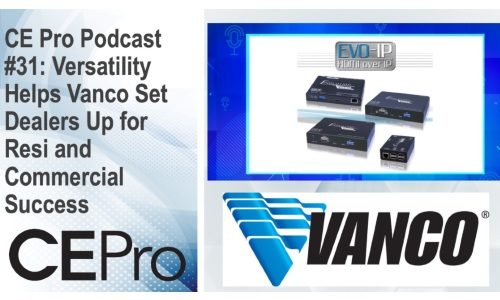 Earlier this fall, on the cusp of the first-ever CEDIA Expo Virtual event, Mark Corbin, president of Vanco, took some time out of his day to discuss the state of his company and the electronics industry.
Surprisingly, in terms of what's going on in the world, not a lot has changed since early September. COVID-19 is still an omnipresent force dictating how businesses conduct themselves, as well and maybe more importantly … how people live their daily lives.
There is a highly contentious presidential election taking place that will have an economic impact as Wall Street and corporate America react to the results of the election, but that's a discussion for another day.
Not to get too far off topic, all of these world events are impacting the electronics industry. For a company like Vanco, Corbin notes the company has reacted quickly to the pandemic's impact through its range of products, which include connectivity solutions and audio products (you can still access the CEDIA booth at vanco.cediaexpovirtual.com to check out new wares).
Vanco Working with HDMI Group to Ensure Compliance
Speaking of looming topics, Corbin explains in CE Pro Podcast Episode #31 that Vanco has been working with the HDMI Group on a number of levels in anticipation of the new HDMI 2.1 standard.
Corbin points out that Vanco like many other manufacturers of HDMI products is waiting for the final testing procedures and certifications from the HDMI Group to help ensure its products are compliant to the new standards.
Taking additional steps to ensure its products are compliant, Corbin comments Vanco is working with the HDMI Group on several levels to support its factories and their compliance with HDMI's stringent requirements.
Later in his conversation with CE Pro, Corbin says some of the trends that Vanco is seeing in the residential and commercial markets includes the growth of AV over IP, and the increasing demand of AV systems in spaces such as restaurants and bars.
Concluding the podcast, Corbin adds that as the residential and commercial AV markets continue to evolve and the costs of AV over IP systems come down, integrators could see more cost-friendly products become available to address smaller system installations.
To hear the entire conversation click here.