CE Pro Podcast #30: How D-Tools' Software Continues to Delight Dealers
D-Tools chief marketing officer Tim Bigoness discusses the latest updates to its System Integrator and Cloud tools, how CEDIA Expo Virtual went and plans heading into 2021.
Listen to this podcast using the embedded player below, or use the link to download (right-click to save) or to listen using your system's media player. On mobile devices simply click the Download this Audio File link below and your devices player will automatically play the file.
Listen to this podcast right now.
Format: mp3 • Length: 22:31 • Filesize: 21731389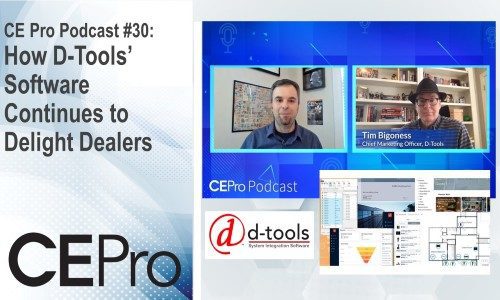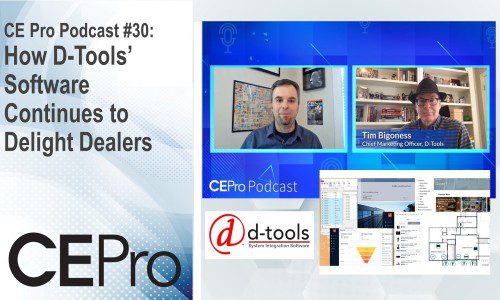 Just think about how many custom installations out there have been created using D-Tools software over the years. The software provider is one of the most impactful companies in the custom industry, and it seems every year integrators can count on D-Tools to add more and more functionalities to its longstanding System Integrator (SI) and more recently introduced D-Tools Cloud tools.
Typically CEDIA Expo is the place to be to see and hear about all the new features and enhancements for SI and Cloud, and this year despite the online platform was no different for D-Tools at CEDIA Expo Virtual, held in September.
D-Tools was ready and waiting for CEDIA Expo Virtual attendees with a virtual booth loaded up with live and recorded videos, whitepapers, datasheets, chat and one-on-one meetings and more to go over SI (now on v.14!) and D-Tools Cloud. Plus, the company had some swag from vendor partners to give away during a happy hour before the official close of the show.
Being in an online environment felt pretty comfortable actually for the software company, D-Tools chief marketing officer Tim Bigoness tells CE Pro in the latest CE Pro Podcast episode.
"We're used to sharing our solution via online, Zoom meetings, GoToMeetings when we're demonstrating solutions," he says.
"So what we wanted to really try and do is when people came to our virtual booth, get a clear understanding of what we can offer them. So we tried to put together a good microsite with a lot of information, some videos, some things that for people who might not be aware of what we do to give them they information they could use to get more involved."
And much like at a traditional CEDIA Expo booth, D-Tools also did some scheduled "theater" presentations in which it detailed both product lines. Those were live, with recordings available thereafter in the booth (which is still accessible until the end of 2020 at d-tools.cediaexpovirtual.com).
"That's typically what we would do at CEDIA proper, where we would have a number of demo stations and then we'd have kind of a theater where we would do a big demonstration of the solution," Bigoness explains.
"What we tried to do was recreate that as best we could. We had set schedules where we were doing two per day – one in the morning and one in the afternoon, for each product, and alternate those."
D-Tools Ensures Quality Time for CEDIA Expo Virtual Attendees
He adds that also like a traditional booth visit, D-Tools made sure attendees had the requisite facetime they needed with key contacts in the company.
"We had these lounges, where we had members of our product team, members of our customer success team available for people to be able to pop in and chat with us," Bigoness says.
"These were Zoom rooms, and we had a number of integrators come in and spend time with us. I think overall the show was very productive," he adds. "It's always hard to juggle a virtual event and manage those expectations as compared to a real live event. The engagement is different when people are going to a live show and they've committed to spending three days, four days at that show, it's a different experience than logging in, staying tuned in and leaving and coming back. But I think overall the show went very well for us."
You can hear about those new features to System Integrator and D-Tools Cloud by watching or listening to the CE Pro Podcast above, as well as other trends Bigoness reports heading into 2021, plus he discusses his role in this year's CE Pro All-Star Band.
Subscribe to CE Pro's YouTube channel to watch previous episodes of the CE Pro Podcast.